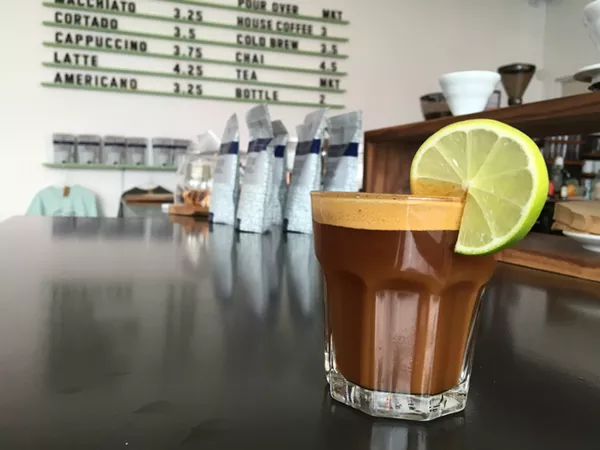 Jessica Elizarraras
Estate Coffee Co. espresso tonic.
When
Estate Coffee Company
and
Oak and Salt Quality Goods
opened their doors the last weekend of Fiesta, the Insta-razzi came running. The rush was predictable — coffee is having a well-deserved moment in San Antonio, and co-owner Brian LaBarbera had been teasing bits and pieces of the space and would-be drinks for months.
And six weeks in, the word of mouth and double-tap happy coffee drinkers that flood the tiny space are helping the partnership grow. The relationship is symbiotic, though Oak and Salt founder Ben Annotti, first launched the boutique spice shop as Pantry Provisions, a web-based food and drink bodega, out of Warehouse 5 on the city's West Side.
That's where he met LaBarbera, who had turned his woodworking hobby into a small business also housed in Warehouse 5. But LaBarbera, 27, had his eyes set on coffee. He joined Alex Dyck, 23, as a roasting intern at Brown Coffee Co., one of SA's premiere bean operations. There, the duo honed their coffee roasting skills under the tutelage of founder Aaron Blanco.
"There's no doubt that Aaron at Brown is the most coffee-knowledgeable person in Texas. It's his life, he's been doing it for a very long time," LaBarbera said. "If you want to be a purist and serve coffee for what it is, that's the place to do it."
When Dyck and LaBarbera decided to join forces and roast their own beans as Estate Coffee Co., they roasted their first batch inside Oak and Salt's old West Side home.
"I had known Brian for a couple years, but seeing them roast … was like seeing where we were two and a half years ago," Annotti, a chef who spent two years working in the JW Marriott before opening his foodstuffs shop, said.
The trio eventually leased out the space at 1320 E. Houston St., just east of I-37 and next door to Tucker's Kozy Korner. The landmarks and directions are key here, as Estate Coffee Co. and Oak and Salt are adding an über-boutique element to an evolving East Side.
Inside the 1,101-square-foot minimalist joint, designed mostly by LaBarbera who used his woodworking skills and helped save plenty of cash along the way, Annotti infuses most of his salts and what-nots, while Dyck roasts beans for the shop twice a week including a Finca Isnul from Guatemala, Nebilyer Valley from Papua New Guinea and a Nyeri Othaya Peaberry from Kenya, with prices ranging from $10 to $14 for an 8-ounce bag.
Where Estate and Oak separate themselves from the onslaught of coffee joints that literally will not stop opening in town is their specialty coffees that combine both great beans and one-of-a-kind ingredients.
"What starts a new drink is us looking at Ben's offerings, his spice library, the cocktails he sells," LaBarbera said while adding, "How can we incorporate the freshest most unique ingredients into something that everyone drinks every day?"
So far the specialty menu is limited to six drinks. Some are familiar for coffee shop fans, such as mocha latte and honey lavender latte. Other drinks, well, let's just say you're not going to find them on Starbucks' menu any time soon. The cold brew mint julep, for instance, will win over most cold brew fans, with its Woodford Reserve mint-infused sugar, muddled mint and splash of Topo Chico, "for the bubbles," says LaBarbera.
In the espresso tonic, served in a cortado glass, the coffee dudes take Austin-based Liber & Co. tonic syrup, infuse it with a juniper berry tea, add a splash of lime, splash a Topo and pull a shot straight into the glass over ice for a refreshing and citrusy pour.
"You can have the same cocktail experience at 9 a.m., but not feel guilty about it," LaBarbera said.
Jessica Elizarraras
The Coffee Old Fashioned.
Take a step further with the Coffee Old Fashioned, which draws funny stares. The drink starts with a double shot of the Kenyan Nyeri Othaya Peaberry beans as expressed via the EK 43 grinder, and combines Crude "Sycophant" orange and fig bitters, with a very fragrant Woodford Reserve bourbon-smoked sugar from Bourbon Barrel Foods, Topo and orange peel garnish. At $8, most people won't be drinking this every morning, but it'll make coffee and cocktail connoisseurs swoon.
"A lot of it comes from walking over there, before rush or at off times and saying this could be fun," Annotti said. "It's the same thing you do in a kitchen, seeing what ingredients are in the pantry and trying stuff out."
Estate Coffee Company/ Oak & Salt
1320 E. Houston St.
(210) 667-4347
estatecoffeecompany.com
7am-4pm Mon-Fri, 8am-4pm Sat, 8am-2pm Sun