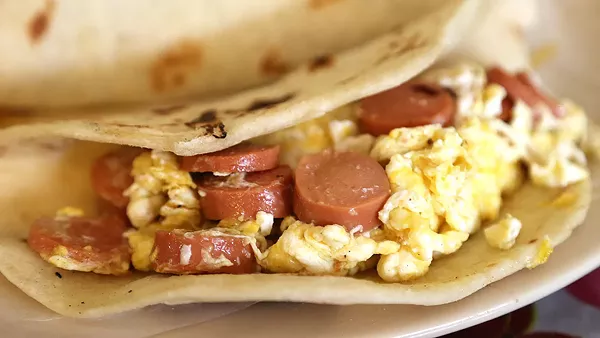 Ben Olivo
"Wini and egg" at Lupita's No. 2, 544 New Laredo Highway.

Reposted with permission from The Tacoist.
Sometimes you're not on your game.
When I left Lupita's No. 2 last week, I felt good about having just completed a thorough investigation of this charming South Side taqueria. But, no. Tacos were missed.
One whiff of the bat was the American taco, which, at Lupita's No. 2, looks to be papa a la Mexicana covered in liquid cheese. This taco isn't listed on the menu. Instead it's handwritten on a sign at the register which I didn't notice till it was too late.
Then there are the Tlaquepaque-style barbacoa tacos. Seems to be a plate of four barbacoa tacos covered in a brown salsa.
I must return to Lupita's to try these strange tacos — the first seemingly a Lupita's invention, the second seemingly an actual style found in Mexico. But don't worry; this visit wasn't a complete waste. New discoveries were made!
Ben Olivo
Lupita's No. 2 has some tacos that are unique to S.A., including Tlaquepaque-style barbacoa tacos.
The albañil taco was foreign to me and is basically bean and chorizo with chile. So, a spicy bean and chorizo. I liked that this taco wasn't messy, which can be the case with lower-quality chorizo. Instead, the beans and chorizo melded and held together well. And because we didn't fully understand the waitress' explanation of the albañil taco, we actually ordered a bean and chorizo on its own. Fail!
I was delighted to find the "patties & egg" taco. Usually, sausage and egg takes the form of pre-cooked sausage links you would throw on a grill. This sausage is of the Jimmy Dean breakfast variety you would normally shape into patties. The taste of this taco is about what you'd expect when combining breakfast sausage with egg. Not sure why more taquerias don't serve this taco. This was ordered on a corn tortilla, which was good — soft with decent corn flavor.
The bean and bacon was watery, buttery, and overall slightly above average. The chilaquiles was another solid taco — not as cheesy, but with crisp chips and freshly diced onion and tomatoes in well-done scrambled egg. The "wini & egg" was your average weenie and egg; salty with good flavor, but definitely in need of the green sauce.
These were all very respectable tacos with about average tortillas. Some were on the crisp side and felt like they had been cooked on the same greasy surface as some of the fillings. I didn't mine; depends on how you like your tortillas.
Lupita's is one of those places I have a soft spot for, admittedly. Most of the menu is hand-painted on the facade. Coming from the parking lot, the kitchen door is wide open so you can sneak a peak at the action as you walk around to the front. Off to the side is a walk-up window for to-go orders.
Inside, it's like walking into a hobbit's home. The ceiling is low. We sat in tiny one-seater booths along the window. They give you a menu, but half of the items are on the wall in picture form. For example, the Dragus plate (sounded very D&D) is a chalupa, a crispy taco, two enchiladas, rice, beans and tortillas.
But let's not forget the American and Tlaquepaque-style barbacoa tacos. They will soon be had.
Lupita's No. 2, 544 New Laredo Highway, (210) 921-1090.
Vi
sit The Tacoist for more snapshots of San Antonio taquerias.