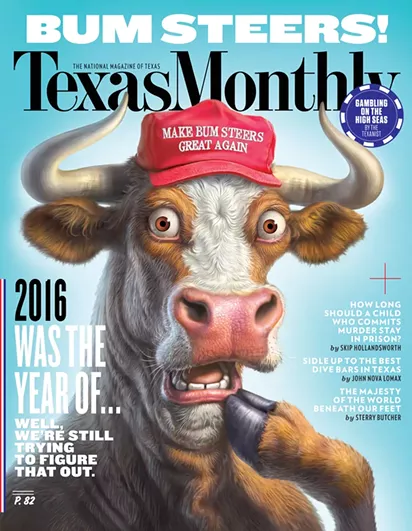 Avid readers of
Texas Monthly
braced for change when its former publishing-group owners
sold
the beloved magazine to a private equity firm late last year for $25 million. And change came quick.
The magazine's top political columnist
abruptly quit
around Election Day, followed later that month by editor-in-chief Brian Sweany, who'd worked at
Texas Monthly
for 20 years. The new owners' first big hire raised eyebrows, too. The
Linked-In page
for Tim Taliaferro, the magazine's new 33-year-old editor-in-chief, lists a nine-month internship at at the Huffington Post out of grad school, after which he served as a flack for the University Texas alumni association and editor of the school's alumni magazine — not even a tangential relationship to the kind of journalism that's won
Texas Monthly
13 national magazine awards
in its four-decade history. The new owners also hired a former marketing executive (who'd worked with clients like McDonalds, Phillips 66, and Direct Energy) to be the magazine's new "
chief creative officer
."
Another change? This week we learned, via
Columbia Journalism Review
, that Taliaferro's vision for the magazine could involve more "lifestyle," less politics. Per
CJR
:
... Taliaferro, who took over after the sale of the magazine to Genesis Park LP, tells CJR it would be foolish to walk away from the history of the magazine, but he hopes to focus on growing the lifestyle vertical because "lifestyle sells Texas Monthly better." He added, "Literary circles have a bias against lifestyle, but lifestyle is an important part of the magazine, including travel and food."

Taliaferro spoke with CJR about his plans for Texas Monthly, which are a departure from the magazine's long history of in-depth political coverage and longform journalism. Of his plans to scale back local political coverage, he says, "Texans don't care about politics." As an example of the coverage he plans to cut back on, Taliaferro cited stories on transgender bathrooms.

The swift response from journalists and readers wasn't kind. (As Blake Hounshell, editor-in-chief of Politico Magazine,
tweeted
: "It is rare that an incoming magazine editor so openly announces a plan to ruin it.") Taliaferro quickly pushed back on Twitter, saying his remarks were taken out of context, but he didn't offer specifics. He also pointed to the scowling image of Lieutenant Gov. Dan Patrick on this month's cover of the magazine, the first issue under his editorship, as sign the monthly isn't skimping on politics coverage.
In a response Taliaferro
posted on the magazine's website this morning
, he both steps back from the precipice and elaborates: "In speaking about
Texas Monthly
's online coverage, I made a comment about the relative emphasis we have placed on news and politics versus lifestyle and longform. In making this comment, I unfortunately gave the CJR the wrong impression."
Still, it's hard to see any other context to this: