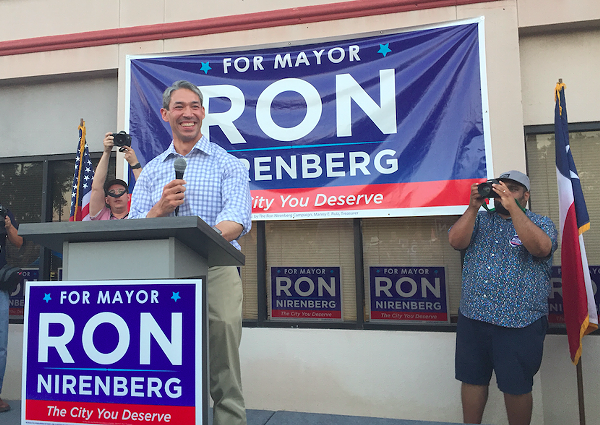 Alex Zielinski
Mayor Ron Nirenberg made transportation upgrades a top component of his election campaign.
If recent appointments to the VIA Metropolitan Transit board are any sign, the city and county hope to harness a new generation of leaders to pull its proposed transportation revamp across the finish line.
Mayor Ron Nirenberg this week unveiled the first steps toward a
new multimodal transportation plan
to keep up with S.A.'s full-throttle growth. Voters — who rejected major new transport initiatives twice since 2000 — will decide this new one's fate in 2019.
The tri-chairs of ConnectSA, the nonprofit formed to help sell it to the public, are consummate insiders — Henry Cisneros, attorney Jane Macon and former Texas Secretary of State Hope Andrade, who recently stepped down as VIA's chairwoman. It's a trio likely to led perennial skeptics straight to the "no" button while failing to ignite much passion from millennials, potentially the strongest supporters of more choices for how to get around.
Both the mayor's office and County Judge Nelson Wolff say that filling the 20- to 25-member ConnectSA board with new faces, many from the tech industry, will be key to winning that support. You may recall, young techies were instrumental in getting ride-share firms Lyft and Uber approved here.
The three city-appointed VIA board members council approved this morning certainly seem to be both young(ish) and tech-savvy(ish):
Amanda Merck, a digital content curator for UT Health Science Center at San Antonio's Salud America! public health advocacy project

Brian Dillard, a cybersecurity consultant with Delta Risk and an East Side community leader

Ezra Johnson, an energy lawyer with Uhl, Fitzsimons, Jewett & Burton
Recently, Bexar County named a pair of appointees that take its VIA board choices in a similar direction:
Marina Alderete Gavito, innovation business development director at USAA and former executive director at tech advocacy group Tech Bloc

Jordana Decamps Mathews, the County's former director of economic development
Need another sign? Keep an eye out for who Wolff and Nirenberg recommend in coming weeks to replace Andrade, who in January as VIA chair.
Stay on top of San Antonio news and views. Sign up for our Weekly Headlines Newsletter.