New student group protests death penalty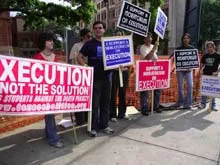 About 20 San Antonio high-school students demonstrated in front of the Bexar County Courthouse to protest Texas' death penalty.
(Photo by Nicole Chavez)
"W
hy do we kill people who kill people to show that killing people is wrong?" read a T-shirt in the crowd of San Antonio high-school students demonstrating in front of the Bexar County Courthouse on April 20.
A new organization, Texas Students Against the Death Penalty, protested the planned executions of Douglas Robert and Milton Mathis, who were scheduled to die that afternoon. Although Robert was executed as planned, the Texas Court of Criminal Appeals granted a reprieve to Mathis, whose lawyers contend may be mentally retarded.
Any Texas high-school student can participate in the month-old organization; the San Antonio chapter is comprised of about 20 students from several schools.
Hooman Hedayati, who is Iranian, said the group plans to hold protests on scheduled execution days. More than 340 inmates have been executed in Texas since 1982; about 450 prisoners are on death row, including Scott Louis Panetti, who reportedly has schizophrenia. Last October, inmate Ernest Willis was exonerated and released from prison after spending 17 years on death row for allegedly killing a San Antonio woman in an arson fire. A judge found the evidence against Willis was faulty and ordered him released or retried. The state attorney general's office didn't seek a new trial.
Margo Johnson of Lee High School is disappointed with the economics of the judicial system. "States are wasting money that can be used preventatively," said Johnson. "We are using short-term fixes for long-term problems."
During last week's protest, high-school students hoped to raise awareness about the death penalty and to recruit more students. "Change is slow," concedes Johnson. "But even if we make two or three people aware each time, we're doing our job." •