Kelly's toxins tap worldwide concern
As part of a global awareness campaign about toxins left by military bases, activists congregated in San Antonio at the Holiday Inn Express on Commerce on July 14 to demand the government clean up the waste that now contaminates communities worldwide and leads to hot zones for diseases such as cancer and leukemia.
"It is very hard to hold the military accountable," said Vi Waghiyi, a representative of Alaska Community Against Toxics in St. Lawrence, Alaska. She complained about the waste discarded by the military in her state after its heavy occupation during the Cold War. "When `the soldiers` left, all they had were their rifles and backpacks."
But American citizens aren't the only ones objecting to the toxins bases leave in their wake as the military bases are closed or realigned. There is no law that requires the U.S. government to clean up its overseas military bases.
"We cannot force them to clean up the base even though we have regulations," said Ji-Seon Koh, a represeantive of GreenKorea United in South Korea. "But I look to the conditions in the U.S. and they're also messed up."
Communities neighboring the former Kelly Air Force Base were alarmed to hear a Lou Gehrig's disease cluster had been identified in the area. Lou Gehrig's disease is a progressive neuromuscular disease that weakens and eventually destroys motor neurons. While the Defense Department is slowly cleaning up the base, residents wish the government were doing more. In an attempt to correct the damage left by a metal-plating shop on base, the government surrounded the soil with a cement wall and paved over the contamination instead of removing the toxins.
"How long is it going to hold?" asked Genaro Rendon of the Southwest Workers Union, who organized the global conference. "What happens in 50 years after the land has been deeded to the city? Who's responsible?" Palikapu Dedman from the Protect Kahoolawe Project in Hilo, Hawaii, spoke of the measures that his organization employs to restore the island but admitted, "We still don't have a cleanup, per se, because they are still making a mess."
In addition to the conference, the SWU presented a panel discussion at KellyUSA Thursday night and organized the March for Community Lives on Saturday morning, the fourth anniversary of the Kelly AFB closing, in which participants wore purple ribbons in remembrance of loved one's struggle with cancer.
"The community has never had a true voice in the decision-making process," Rendon said. "We really want to be standing shoulder-to-shoulder with people around the world who are dealing with the same struggles."
---
TCEQ critiqued for missing teeth
The Texas Commission on Environmental Quality convened a hearing last week at City Council chambers to hear how poorly it has performed its duty to protect the Edwards Aquifer from contamination and development.
If the TCEQ officials were primed to hear criticism, they weren't disappointed, as four out of 22 people who signed up to speak lambasted the agency and recommended steps to remedy its lackadaisical work.
TCEQ would hear comments but no discussion would follow, advised TCEQ spokesman Bobby Caldwell, who works in San Antonio's Region 12 office.
Understaffing and funding shortfalls have chronically plagued the TCEQ, which has 3,000 employees and 16 regional offices. With a $463 million annual budget, it has allocated a mere $585,058 to fund its aquifer protection plan.
San Antonio Water System spokesman Ken Diehl asked the TCEQ to hire more personnel to enforce environmental regulations such as inspections of storm water basins in local residential subdivisions. "In 2004, there were 236 basins, and 15 percent of them were non-compliant," said Diehl. "TCEQ has only one staff member" dedicated to inspecting storm water ponds.
George Rice, groundwater hydrologist and Edwards Aquifer Authority board member, asked the commission to establish impervious cover (pavement) limits to no greater than 15 percent in the aquifer's recharge, contributing, and transition zones. He also urged it to strengthen rules about the storage of hazardous materials over the aquifer.
The TCEQ doesn't regulate development or chemical-storage practices over the aquifer. Stores such as Home Depot and Lowe's "are allowed to store an unlimited amount of hazardous materials," said Rice, who pointed out that a major fire would consume large amounts of water and that hundreds of gallons of chemicals could run off into the aquifer.
Annalisa Peace of the Greater Edwards Aquifer Alliance pressed the TCEQ to set an impervious cover limit of 10 percent in the recharge zone and 15 percent in the contributing zone. "TCEQ has done no survey of recharge areas that have been plugged. TCEQ considers no trends in aquifer degradation. Aquifer rules are not working, they are not protecting it from massive development."
Caldwell said the commission would meet in August to consider the input it has collected in a series of public hearings on the Edwards Aquifer.
---
Local Muslims denounce bombings
The local chapter of the Council on American-Islamic Relations held a press conference July 15 to denounce those responsible for the London bombings. More than 50 people died and 700 were wounded after suicide bombers suspected of having ties to Al-Qaeda blew up a double-decker bus and three subway cars.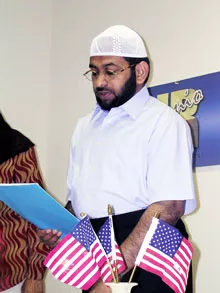 Abdul Wahid opened the press conference with prayer from the Quran.
(Photos by Melissa Santos)
"These terrorists have no religion. They just want to kill," said Muhammed Choudary, chairman of the Muslim Community Center of San Antonio.
"If you want to die man, die on your own; why do you have to take other people with you?" added Sarwat Husain, CAIR-SA chairwoman and editor in chief of Al-Ittihaad, a Texas newspaper that covers Muslim issues. "Our hearts go out to the victims."
The BBC World News reported on July 14 that London's Muslim community is disturbed that young, disenfranchised Muslims are resorting to violence and perverting the message of the Quran.
"We want youngsters to understand that is not Islam," Husain said. "Islam doesn teach this."
---
Bike plan trucking along
Golden Canyon Road, Rosewood Avenue, and Kampmann Boulevard are among the most-used thoroughfares for bicyclists, according to riders who filled out surveys at a July 12 Metropolitan Planning Organization meeting.
Using the Bicycle Level of Suitability system, a standard model adopted by many states, a subcommittee will grade the heavily biked routes from A-F on traffic, speed limits, lane width, on-street parking, and pavement conditions. The committee plans to color-code them on a map as high, moderate, or low usability. The map can also be used as a planning tool for transportation officials who can determine riding patterns or potential alternate routes.
Mapping is part of the Regional Bicycle Master Plan, adopted in April. About 20 cyclists attended the meeting and designated the Northwest and Northeast sides as the places they biked most.
Currently, the usability map encompasses 200 miles of streets that have designated bike lanes or are scheduled to have them. The MPO plans to have a 1,600-mile map that combines street and off-road routes. "The eventual goal is for people to get on a bike anywhere and be able to get anywhere else," said Scott Ericksen, VIA Transit's public involvement coordinator. "But until the City Council recognizes bicycling as a viable form of transportation, they will not provide the funding." Info: www.sametroplan.org