Ceragem busted for bogus claims
Ceragem, the hocus-pocus therapeutic-bed retailer with two San Antonio outlets, has been fined $180,000 by the Texas Attorney General's office for making unsubstantiated claims about the health benefits of its beds. `See, "Diamond or cubic zirconia?" March 3-9, 2005`.
The AG's office penalized Los Angeles-based Ceragem International, which has 130 locations throughout the U.S., after conducting an undercover investigation of its 10 Texas stores. Ceragem sales staff deliver "pep talks" to prospective clients, many of them Spanish-speaking, and claim that the $2,400 Ceragem-C Thermal Massager will cure such ailments as cancer, epilepsy, cysts, reproductive problems, and deafness. AG spokesperson Paco Felici said one sales rep told customers that children could grow taller by lying on the Ceragem bed.
A motivational speech often begins a massage session, during which customers chant "Ceragem!
(Photos by Isa Fernandez)
"We saw this systematically, not just in one store," Felici said. "The company has put the lives and health of its clients at risk."
AG investigators videotaped Ceragem's sales pitches, which are available at oag.state.tx.us.
Texas is the first state to take legal action against the company for its deceptive marketing practices.
As part of a pre-litigation settlement, Ceragem agreed to stop claiming the beds would alleviate illnesses and to reimburse clients who purchased beds thinking their ailments would be cured. The Federal Drug Administration has approved the bed for temporary relief of mild muscle aches.
Sebastian Kim, owner of the Ceragem on Bandera Road, referred calls about the investigation to the corporate office. Ceragem officials in Los Angeles could not be reached for comment.
Ceragem often targets Spanish-speaking communities; its San Antonio stores on Bandera Road and SW Military Drive are in Hispanic, working-class neighborhoods. Sales pitches are in Spanish.
Spanish-speaking communities are often fraud victims, said Felici, because "they can be linguistically isolated and it's more challenging to expose them to sound information."
Ceragem of South Korea sells the beds in 22 countries and has more than 500 independent retail distributors worldwide. Ceragem International reported annual sales of $18 million, according to a 2004 Dunn & Bradstreet report. •
---
Planned Parenthood demonstration
On Tuesday, September 13, as the U.S. Senate prepared to hear Chief Justice of the Supreme Court nominee John Roberts' testimony, the traffic on San Pedro slowed to a crawl as drivers craned their necks to read the pink signs of Planned Parenthood demonstrators. If given the chance, the demonstrators said, the question they would ask Roberts was, Is Roe v. Wade endangered?
"We are afraid that because of the hurricane people aren't paying attention `to the senate judiciary hearings`," said Jennifer Bilbrey, director of government affairs at Planned Parenthood, "People need to understand that Roberts is 50, so he's going to be in this position for a long time. So, it's important for the Senators to ask these questions, and for people to understand where he's coming from."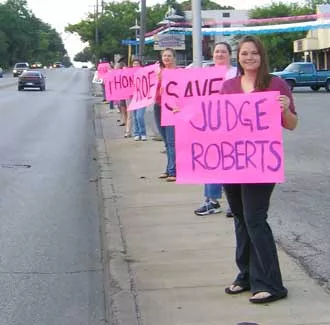 Planned Parenthood supporters demonstrated early last Tuesday morning at the corner of Hildebrand and San Pedro, holding up bright pink signs asking Chief Justice of the Supreme Court nominee John Roberts to uphold Roe v. Wade.
(Photos by Susan Pagani)
Supporters of Roe v. Wade say aspects of Roberts' record are troubling. In 1981, Roberts sent a memo to William French Smith, then his boss, dismissing privacy as a "so-called right" and making the point "that such an amorphous right is not to be found in the constitution." In 1991, as deputy solicitor general, Roberts argued Rust v. Sullivan on behalf of the first Bush Administration in which he wrote that Roe v. Wade "was wrongly decided and should be overruled."
Throughout the Senate committee hearings, Roberts remained evasive regarding Roe v. Wade, stating that he would not "forecast" how he would rule in cases that might come before the Supreme Court. But he appeared to uphold that privacy is a constitutional right when asked by Senator Joseph Biden, "Do you agree there is a right of privacy to be found in the liberty clause of the 14th Amendment?" Roberts replied, "I do, Senator ... Liberty is not limited to freedom from physical restraint. It does cover areas ... such as privacy. And it's not protected only in procedural terms but it is protected substantively as well."
Whether or not he would argue that the right to privacy applies to abortion remains the question. "Roe v. Wade is based on the premise of privacy," said Lynette Maddocks Gatlin, a Planned Parenthood supporter. "If Roberts overturns Roe v. Wade, it will be a real detriment to women's reproductive health issues, to their safety - it will put us back in the dark ages as far as unsafe abortions go." •
---
Hold the phone: Texas Cable sues over SB 5
On September 7, Governor Rick Perry signed into law Senate Bill 5, which deregulates basic telephone rates, allows statewide cable franchises, and permits broadband service over power lines. Not content to let the Governor and Big Telephone have the last word, the Texas Cable & Telecommunications Association filed a lawsuit a day later to challenge the law.
`See "Communication breakdown" May 26-June 1, 2005, "Kissing the hand that feeds" September 8-14, 2005`
The TCTA names Perry and three members of the Public Utilities Commission as the defendants in a lawsuit that claims SB 5 violates "a federal duty to guard against red-lining." Until now, the Federal Communication Act has required municipal franchising authorities to ensure that cable companies provide equal service to all consumers, regardless of income; SB 5 allows cable providers with state-issued franchises to target "high value" customers across Texas.
TCTA also argues that SB 5 violates the U.S. and Texas constitutions and the Federal Communications Act by allowing telephone companies to bypass the regulatory hurdles cable has had to clear in order to enter the Texas market.
SB 5 instructs the Public Utilities Commission to grant state-issued franchises to new entrants, such as SBC, and "overbuilders" - companies such as Grande that build cable systems in areas already served by another cable company - that elect to opt out of their municipal franchises. At the same time, it directs the PUC to deny state franchises to existing cable operators until their municipal franchises expire.
"Texans lose under SB 5," said Tom Kinney, chairman of the TCTA board and president of Time Warner Cable-Austin Division in a press release. "Competition can't flourish when businesses offering the same services are treated differently for no reason. And without true competition, consumers don't benefit." •
By Susan Pagani
---
Radnofsky stumps for Senate
While President George W. Bush was bloviating from New Orleans' Jackson Square about how the feds were helping the impoverished African Americans of the Crescent City, U.S. Senate candidate Barbara Radnofsky was stumping In the jungly back yard of a Monte Vista home, taking on her Republican opponent, Kay Bailey Hutchison, on health care, the environment, and veterans' benefits.
San Antonio is one of 230 trips Radnofsky, a Houston lawyer and mediator who argues cases on behalf of patients as well as health-care providers, has taken across the state.
A supporter of single-payer health care, Radnofsky criticized Hutchison, who sits on the Appropriations and Veterans Affairs committees, and the GOP for cutting Medicaid benefits and veterans' benefits.
"Kay Bailey Hutchison has not used her power wisely," Radnofsky said, noting that there is not a veterans' administration hospital south of San Antonio.
Radnofsky also opposes the Bush Administration's voluntary emissions standards for mercury, which would also allow heavy polluters to buy "credits" from light polluters.
"I would have voted for mandatory standards. Scientific evidence can't be erased by editing a memo," she said, referring to an Environmental Protection Agency report that was modified by the fossil fuel industry to downplay the effects of global warming. By trading pollution credits, she added, "the richest of the polluters can concentrate pollution in one area."
From the crowd of labor leaders and Democrats, including District 21 challenger John Courage and District 7 City Councilwoman Elena Guajardo, a man asked the obvious question: "How can you win?"
Hutchison was elected to the Senate in 1993; after toying with the idea of running for governor earlier this year, she announced she would seek another term in Congress. For the 2006 election cycle, Hutchison has raised $1.3 million.
"I've raised $500,000 by myself on phone," Radnofsky replied. "I have volunteers. And I wouldn't engage in this if it weren't entirely doable.
"I grew up in the '60s when ordinary people were doing extraordinary things," said Radnofsky, 49, whose father was shot down over Nazi Germany during World War II and was held captive in a Nazi POW camp. "I come from people who in dark times did extraordinary things." •