Could Superfund loom in Leon Valley's future?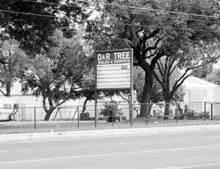 A private well at D&R Tree Service tested above the maximum contaminant level for PCE, found in degreasers and dry-cleaning solvents. Several private wells along Grissom, Poss, and El Verde roads also contained high levels of the chemical. The state environmental agency placed carbon filters on contaminated wells to prevent people from drinking polluted water. D&R uses their well only for irrigation, according to state records.
(Photo by Lisa Sorg)
O
n a recent Sunday afternoon, sprinklers irrigated the grass at Freedom Baptist Church, 6416 Grissom Road, an area that lies over a plume of contaminated groundwater.
Texas Commission on Environmental Quality officials discovered the plume in April 2004, after learning of high levels of perchlor-oethylene in several Leon Valley private wells, including one next door to the church at D&R Tree Sales. Now the plume could be designated a state or federal Superfund site; there is no known source of the pollutant, nor anyone to hold responsible for it.
Wesley Newberry, TCEQ team leader for the state Superfund site discovery and assessment team, said the agency would assign the plume a hazardous ranking this month. Sites with scores above 28.5 qualify for federal remediation, albeit with approval from the Environmental Protection Agency. Sites with scores of at least 5.0 can fall under the state Superfund program.
There are eight state Superfund sites in Bexar County. When a site receives a Superfund designation, it triggers several public hearings, a remediation investigation to try to determine the full nature and extent of the contamination, and a list of cleanup remedies. The state cleans up the site using money from the Hazardous and Solid Waste Remediation Fee account, which generates income from the sale of lead-acid batteries and a fee on the management of hazardous and industrial solid waste. The TCEQ can also try to recover cleanup costs from the polluters, if they are found.
Newberry speculated that the plume would qualify for at least the state Superfund, "considering the number of wells affected."
Last spring, environmental consultants cleaning up a former dry-cleaning site at the Savings Square Shopping Center on Bandera Road tested a nearby well belonging to Raul Saenz. Results showed PCE levels of 25 parts per billion, five times the Environmental Protection Agency's maximum contaminant level of 5 ppb for the chemical. That amount is roughly equal to five eyedrops in a medium-sized swimming pool.
The TCEQ sampled within a half-mile - and later one mile - of Saenz, and found four more tainted private wells, at least one of which was used for drinking. Concentrations in those wells ranged from 22 to 73 ppb. The TCEQ placed meters and carbon filters on the wells to prevent contaminated water from entering people's homes or irrigation systems.
The EPA has listed PCE as a possible cancer-causing chemical. Health effects include kidney and liver damage. PCE is often used in dry-cleaning solvents and degreasers.
In December, the TCEQ finished its latest round of sampling, which included 33 wells within 1 1/2 miles of the Saenz residence. Data suggests the plume has not spread. Existing contaminated wells still contained high levels of PCE, but filtered water coming from people's faucets did not contain the chemical.
No public wells tested above the EPA limit, according to the TCEQ. Leon Valley has its own water system, although in an emergency it can connect to San Antonio Water System lines.
Newberry said since the plume seems to have stabilized, the TCEQ would reduce the frequency of its sampling from quarterly to twice a year.
Yet, Leon Valley officials remain worried about the contamination. "We are always concerned, as is SAWS, that it might intensify or spread," said Pat Wright, Leon Valley director of public works. He added that due to the layer of protective rock, it is unlikely the groundwater would surface.
According to John Hoyt, water quality program manager with the Edwards Aquifer Authority, water in that area flows east and southeast - toward the San Antonio city limits; he added that the contamination poses no immediate threat to human health as long as it doesn't enter the public water supply and carbon filters remain on contaminated private wells.
Initially, state officials theorized the PCE could have originated from a former dry-cleaning site, but as investigators found high concentrations of PCE to the northwest, near the old Culver Airfield, the pollution source became less certain.
Newberry said the area over the plume could still be developed as long as businesses relied on public water, not private wells. In a TCEQ publication, "Can a Superfund Site Affect My Property?" the state says it "cannot predict how contaminated groundwater will affect individual property values." Moreover, property owners can be held liable for contaminated groundwater beneath their land unless they qualify for the Innocent Owner/Operator program, which applies if the property was contaminated by an off-site source.
There are about 11 acres of vacant pasture for sale along the 6200 to 6500 block of Grissom Road, part of it across the street from D&H Tree Service, whose well initially tested at 22.5 ppb. When contacted by the Current, Roy Horn of the Helotes-based real estate company Hornco was surprised to hear about the nearby contaminated plume and the old airfield near the property. "No one has told us anything about it," Horn said, adding he planned to immediately call the TCEQ.
While PCE contamination is widespread - the EPA website lists dozens of pages of PCE-related cleanup projects from Utah to North Carolina - it is also difficult to remove. "It's highly embedded," said Wright. "It settles to the bottom."
If the plume is placed on the federal Superfund list, it could be decades before the groundwater is even partially cleaned up. The nation's Superfund program has an annual cleanup budget of $450 million, but last December, The New York Times quoted an EPA report that predicted as many as 355,000 hazardous waste sites could require cleanup over the next three decades, at a cost of up to $250 billion.
Although not as financially strapped as the federal program, the state Superfund isn't awash in money. According to Texas Environmental Profiles, a joint project between the Texas Center for Policy Studies and Environmental Defense, the state estimates it spent $29 million from 1985 to 1998 to begin cleaning up sites where a responsible party could not be held accountable. For Fiscal Years 2004 and 2005, the State Legislature allocated $63 million for the hazardous materials clean-up program, which includes the state Superfund, $6 million less than what the TCEQ had requested.
Funding shortages, lawsuits, and other bureaucratic detours can cause cleanup delays. It took 12 years for the state to remediate the JC Pennco site on Higdon Road in southeast Bexar County; the state continues to monitor Harris Sand Pits in Von Ormy 18 years after it first appeared on the state Superfund list.
"We're very interested in the plume," said Wright. "`Leon Valley` doesn't have the capacity to clean it up." •
By Lisa Sorg
To see the Current's previous stories about Leon Valley contamination, click on the following links:

"Deep thoughts," May 27-June 2, 2004

"Leon Valley contamination still a mystery," June 3-9, 2004

"More questions, no answers," November 18-24, 2004