Hunger and overeating coexist in the city
Pronouncements declaring which American cities are the "fattest" have become a semi-annual feature of local television news broadcasts, metro/region headlines, and stand-up comedy routines. No less a publication than Men's Fitness releases a list every year, and in 2005 ranked San Antonio the tenth-fattest, up six places from the previous year. And when the results are released and the news anchor makes his or her smart-alecky quip about putting down the Snackwells and taking a jog (not during the nightly news, of course), it's impossible not to take a long look in the funhouse mirror and ask, "Am I part of the problem?"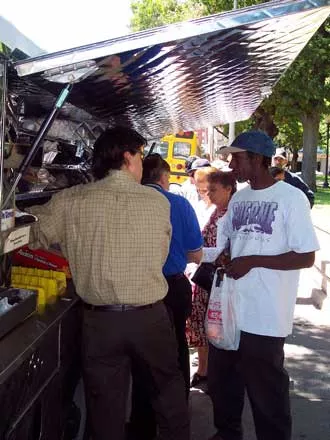 Volunteers with Mobile Loaves and Fishes, a food canteen operation that serves 75 hungry people at Travis Park, hand out sandwiches, fruit, drinks and donuts around noontime. The Feed the Hungry Project is sponsored by St. Mark Evangelist Catholic Church on Thousand Oaks.
If Falstaff, Friar Tuck, and Sgt. Schultz have taught us nothing else, it's that obesity is entertaining, and therefore newsworthy. It's harder, if not impossible, to find an entertaining slant on hunger, though, and discussions of the hungriest cities on Dateline or talk radio are rare. Case in point: a Google search for "fattest cities" turns up reports from magazines, newspapers, blogs, and CNN, while the first link under "hungriest cities" is a Slate.com article about the problems with online city guides.
Hunger In America 2006, the recently completed survey of emergency-food-assistance-use through nearly 50,000 organizations in the America's Second Harvest Network, doesn't rank cities, but rather, provides statistics in a myriad of categories on both national and local levels. 2006 marks the first year that all Texas food banks participated, and the first since 1997 that the San Antonio Food Bank contributed. The study combines both a survey of the individual agencies that make up the SA Food Bank network and a broader, client-specific survey for the overall results, then breaks down the approximately 150,000 clients the food bank serves each year into several demographics, revealing sharp contrasts among age groups, ethnicities, education, and other food banks in Texas. Twenty-five thousand clients receive emergency food assistance from agencies associated with the SA Food Bank, and, compared to the state as a whole, 17 percent of its clients are more likely to be food-insecure.
The San Antonio Food Bank serves up to 400 area agencies that strive to feed hungry people in San Antonio. Food is stored in an East Side warehouse, where a steady line of customers line up on the loading docks. Hungry people who contact the Food Bank are directed to community pantries that are located throughout the city.
Since the methods and results of the study focus on individuals who are already making use of food-bank agencies, it provides only a partial picture of the extent of hunger in south Texas, but SA Food Bank Director Eric Cooper suggests that wasn't the intention. "It's a way for us to look at our service, but it also adds a more credible voice to the discussion," he says. "You know, it's not the Food Bank Guy saying there's this problem, it's neutral, a third party."




Whom does the SA food bank feed?

Each week, approximately 25,000 people receive emergency food assistance from an agency in the San Antonio Food Bank network. Annually, the San Antonio Food Bank provides emergency food assistance to around 150,000 people in Southwest Texas.

The breakdown:

40,000 children (27 percent)

25,000 seniors (18 percent)

15 percent white, 16 percent black, and 69 percent Hispanic

41 percent have at least one adult in their household working

9 percent are homeless

61 percent have not graduated high school

Source: America's Second Harvest, 2006





The overall results of the study were in line with what Food Bank personnel see everyday, but some of the individual statistics proved striking.
Policy/advocacy/education coordinator Sarah Lichtenstein was surprised by the race statistics, particularly in comparison to national results, which suggest that the client's race has more to do with hunger in San Antonio than elsewhere in the country. Cooper noticed that the results proved the effectiveness of the Food Bank's food-stamp outreach program. The study shows that South-Texas food-bank clients are more likely to have applied for food stamps, and with the assistance of the outreach program, 66 percent of those clients are approved, twice as many as are approved without outreach assitance.
America's Second Harvest's results will be published in June, but what then? "Processing the results hasn't mobilized any specific programs yet," says Cooper, "but we have used surveys to spur action before." Yet, the survey is already influencing how the food bank educates its nonprofit agencies. "41 percent of clients have at least one member of the family working, and a lot of these agencies keep normal 8-5 business hours," Cooper says. "We're going to show them that operating at different hours makes it easier on the individual who has to pick up the groceries, so they don't have to take off from work to do so."
City government is reacting to the study as well. When the mayor's office challenged the SA Food Bank to develop a ten-year plan for finding solutions to hunger problems, based on data from a survey or study, Cooper responded enthusiastically. San Antonio's Department of Community Initiatives has also been working with the SA Food Bank, providing funding for some administrative functions.
"Hopefully when the study gets out there, it will arouse someone's sense of indignation and injustice," says Cooper. Maybe the same person who hops on the scale after every new obesity study or girth-based city ranking is released will pick up the phone instead, to volunteer time or make a donation. And why not? We're the tenth-fattest city in America, so there's plenty of love to go around.