No naps, no recess: Being 5 is more rigorous than ever
The forest green-and khaki-clad students walk down the quiet, well-kept halls of Briscoe Academy in tidy, straight lines. These students are serious about learning and their attitude begins in the brightly colored, carpeted rooms of kindergarten.
A charter school in the San Antonio Independent School District, Briscoe Academy is the "Hope Diamond of the South Side," says School Coordinator Emily Purificato. "Recognized" by the Texas Education Agency in its annual accountability rankings, Briscoe meets the 70 percent standard in all subject areas on state standardized tests and maintains an 85 percent completion rate throughout the year. Only 15 of 105 SAISD schools are recognized.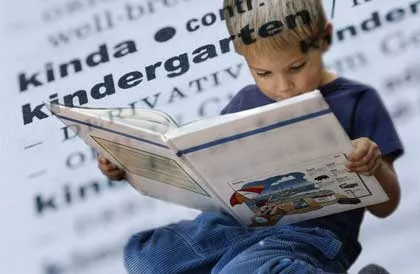 With the pressure of pending standardized tests in elementary school, kindergarteners are being taught a more rigorous curriculum, more akin to first grade. However, some educators say kindergarten should still include time for free play and recess to avoid burning kids out before they're 6.
(Photo illustration by Julie Barnett)
Adjacent to busy railroad tracks, five kindergarten classes of Latino children learn how to read and write despite the building's shaking noise. No longer is their kindergarten a wonderland of naps, snacks, and wood blocks, but a place where reading is now an end-of-the-year expectation, the curriculum is rigorous, and recess is often rare.
"`Some parents` are shocked to see what kind of homework kindergartners get here," teacher Renaii Ortiz says. In 1996, after her first year of teaching, Ortiz realized her traditional approach to kinder desperately needed enhancing. Although she taught the expected subject matter — colors, numbers, letters, some sight words, and plenty of arts and crafts — when her students were tested at the beginning of first grade they couldn't read. Specialized reading teachers intervened to ensure her students were performing at grade level.
"When you look at the kinder curriculum and the first-grade curriculum, there's a huge gap," Ortiz laments. For example, skills tests specify that kindergarten students "use their knowledge of sounds and letters to write by themselves." In first grade, they must write "complete stories or reports."
Although expected of a first grader, this benchmark can be difficult to meet if a student is unfamiliar with the correspondence between sounds and letters or basic sight words — skills not required by the state for kindergartners.
Hawthorne Academy Principal Rita Pollock explains the increase in academic demand: "We emphasize to the lower grades the importance of a foundation. In third grade we don't want to do catch up because of the TAKS `state test`."
Because the state doesn't begin standardized testing until third grade, schools have several years to prepare students for the rigorous exams.
Hawthorne Elementary, another state-recognized school, also has accelerated its kindergarten curriculum.
Inside the 100-year-old high school-turned-elementary academy, seasoned Hawthorne kindergarten teacher Laurie Jones engages students by incorporating songs, games, movement, and small group activities into the seven-hour day.
"They're capable and can do it," Jones says of her 5-year old students. When the district asks that students know 25 sight words by the end of the year, she expects at least 60. She denies the charge that her curriculum is too academically challenging for the age group. "It's up to the teacher to make it developmentally appropriate."
Principal Wilma Sosa of Alamo Heights ISD's Howard Early Childhood Center notes the danger of pushing children too hard. Because of high parental expectation and challenging private preschools, some children enter her kindergarten "burned out because they've seen it all before."
A converted elementary school, Howard houses kindergarten, pre-K, and preschool for the entire district. The pre-K and Head Start preschool program are limited to the district's low-income and non-English-speaking children. Sosa avoids fostering an environment where students can become "bitter about learning" with a shortened school day (8 a.m. until 2 p.m.), activities-based learning, and daily recess.
"We have learned a lot more about how children learn to read," Sosa says of the more academic approach to kindergarten. "There are a lot of things we can do that are appropriate activities." Adapting activities for a younger age, Howard teachers guide small reading groups and have students put on plays in which they act out character roles.
"`Some parents` are shocked to see

what kind of homework

kindergartners get here."

&Ndash; Teacher Renaii Ortiz
Within the tight agenda and stringent academic goals, SAISD and Alamo Heights ISD students still participate in traditional kindergarten activities. All of Howard's 16 classes prepare for the school-wide powwow with Thanksgiving and Native American activities. Peeking into Mrs. Garcia's class at Briscoe, the linoleum floor is a sea of patchwork fabric and buttons as 40 children busily cut and paste their own swatch for the Thanksgiving class quilt. Next door, in Mrs. Ortiz' room, colorfully hand-painted T-shirts — Native-American costumes — hang from the walls. Students decorate miniature paper teepees while others work inside a life-size counterpart.
Even these children are working towards the standardized tests. In the big teepee, students must write sentences below corresponding pictures to complete a book on how to construct a teepee. Even imagination time is infused with learning.
For most kindergartens in SAISD, recess is reserved as a 10-minute incentive on Friday, provided classes work hard and behave all week long. Daily recess is obsolete, as mandated by the district. "I understand their point of view," Jones says of the district's new policy. "They're focusing so hard on getting these economically disadvantaged, low-income kids up to a level so they're equal to everyone else."
Blocks of physical education substitute for play. Trinity master's degree candidate and Hawthorne student teacher Ben Mathews finds the block difficult for the children. "The problem is, it's a huge gym without air conditioning. It's hot and loud and structured." Mathews believes the lack of recess affects the children's ability to concentrate and engage. "Being outside is a vital part of their education," says Mathews. "They're 5. They need to run around a little bit."
"It's a huge mistake," Principal Sosa says of SAISD's recess policy. "It's not just the academic development but the social and physical which is so critical." Sosa says recess provides the free time small children need during the day to make choices, learn social skills, and conflict resolution. "`SAISD` will see the result of that in the behavior of their children," warns Sosa.
Principal Pollock admits some kindergarten students have frequent discipline problems. "They haven't learned how to appropriately play with each other," Pollock says of these children, many of whom haven't attended school before kindergarten.
Like most states, Texas' compulsory age for school attendance is 6. Kindergarten and pre-K are not mandatory, but recommended. "Pre-K is what kinder used to be," says Ortiz, adding pre-K and kindergarten should become mandatory in Texas.
"Pre-K is preparing my kids for the school environment," says Jones, hopeful for an increase in preschool and pre-K attendance. On average, half her students have attended school before entering her class. "My job is to fill that gap," says Jones of the social and academic difference between her students.
"Pre-K has a very rigid curriculum," Pollock says of her school's program. Hawthorne's pre-K accommodates two classes of 3- and 4-year olds. In the two classrooms, children play with sponge blocks and cook in plastic kitchens while teachers read to small groups and help students write the number 7. After a home-style lunch during which the children learn meal etiquette, they lie down for a nap. As their older kindergarten peers look on during their walk back from the lunchroom, screams and laughter are heard from one pre-K class during their daily recess time.
Ortiz says the challenge of preparing students for first grade is greater but not impossible when they come into school in kindergarten. "These kids have enough things going outside their lives that they don't need to struggle year after year," Ortiz says steadfastly.
As kindergarten becomes the new first grade and pre-K replaces kindergarten, teachers such as Jones and Ortiz find ways to meet the new academic rigors while still incorporating traditional kindergarten recreations. Says Mathews, "We have the opportunity to take kids that are fresh and give them a good experience." •
By M.L. Sharpe