As DNC chairman, Howard Dean is buoying his party's spirits
On a recent San Antonio evening, the air was so still and drenched with humidity that the 100 or so Democratic party insiders, candidates, and supporters who turned out to see Howard Dean at La Villita seemed to be treading water rather than applauding.
Democrats will have to do better than treading water to win back the White House or gain a Congressional majority. Since 2000, their clout has sunk, in part because of the Republicans' expertise at managing their own message, and in part because the Democrats have squandered opportunities to dismember the GOP over the lie behind the Iraqi War, the Karl Rove scandal, the Tom DeLay scandal, the Jeff Gannon scandal, an energy bill that doled out millions of dollars in tax cuts for oil companies, the government's illegal use of video news releases as propaganda, the Patriot Act, the falsehoods about purported Medicaid benefits, Social Security, the failure to capture Osama bin Laden, President Bush's support for "intelligent design," cuts in veterans' benefits, the inequities of No Child Left Behind ... Well, now we're just piling on.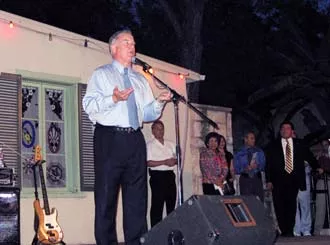 "Republicans specialize in taking hope away," said Democratic National Committee Chairman Howard Dean at La Villita on August 5.
(Photo by Lisa Sorg)
Two years ago this month, then-presidential candidate Dean arrived at La Villita to thousands of people who viewed the audacious, rascally governor from Vermont as the party's spark plug. On that idyllic evening, if it seems naive in hindsight, the people who stroked checks, cheered, and climbed aboard the Dean train really believed he could be the 44th president of the United States.
But Dean's unabashed, occasionally abrasive tone, while energizing the party's young and disenfranchised voters, clashed with the Democratic gentry. So the Dems got John Kerry. And America got George W. Bush. Again. On this trip to San Antonio for the Democratic Hispanic Leadership Summit, Dean, now the party's national chairman, had dialed down his decibel level, but still showed signs of his presidential fire: "People say the last election was about moral values; it wasn't. It's a moral value to tell the truth if you're the president of the United States. It is not a moral value to take golf trips paid for by lobbyists. It is not a moral value to pay journalists to write nice stories about you. It is not a moral value to withhold information about mercury poisoning so you can put it in the air. It is not a moral value to send men and women to Iraq to die without telling parents why they're there."
Yet, as the Democrats have learned by losing, it's not enough to dissect the Republicans' wrongdoings. Democrats, Dean said, must tell Americans why their policies will succeed in order to resurface as the party in power. "We are the party of fiscal responsibility and a balanced budget," Dean said, referring to President Bill Clinton, who, when he left office in 2000, had racked up a $230 billion surplus. (The GOP credits Newt Gingrich and Republican Congress members for putting the country in the black.) Nearly a year into Bush's second term, defense spending and tax cuts have ballooned the budget deficit to $412 billion. "We stand up for personal responsibility and individual freedom."
Dean criticized the recent Supreme Court decision that allows, in essence, private corporations to take private property if a city or county government determines it would be for the public good. `See related story, page 6.` He touted plans for reforming elections "so that every vote counts," the budget process, health-care, and education, saying that Democrats "will do away with" No Child Left Behind, Bush's education reform, which has been roundly criticized for its lack of federal funding, reliance on standardized tests, and inequities in special-education requirements.
"We need to be more disciplined," Dean said of his party's strategy. "If we don't step up for what we believe in we won't win elections. Some people think the best way to win is to mimic Republicans. But we are Democrats because we believe in social and economic justice."
Dean also challenged Bush, who is vacationing all month in Crawford, to oust Karl Rove from his White House post over the leak of a CIA agent's name.
"Mr. President, keep your word. Send Karl Rove back to Texas."
"No!!!!" the crowd yelled.
"OK," Dean laughed. "Somewhere else!"
"Iraq!" •
By Lisa Sorg