Life on the outside is even tougher on women
"If you are an offender, you might as well take your degree and stick it in the toilet," says Sherron Scott, one of more than 600,000 people who will be released from state and federal prisons this year.
When former inmates are released many are unprepared for life outside; according to the U.S. Department of Justice, more than two-thirds will be re-arrested within three years. And women, who represent only 10 percent of Texas inmates, face additional challenges such as childcare, medical problems, and self-esteem issues when they are released. For these reasons, advocates for women offenders have argued that reentry programs for men and women must be approached in different ways.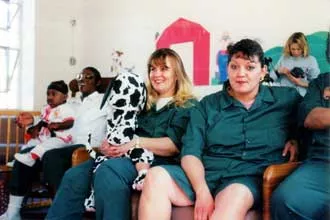 As part of a panel of women prisoners reentering society, KLRN showed the film Prison Lullabies.
As part of a national media-outreach campaign, KLRN and the UTSA College of Public Policy are addressing issues prisoners face when reentering society with a series of screenings and panel discussions held at the UTSA downtown campus.
Scott says she is fortunate to be a resident of Women at the Well House, a transitional housing program in San Antonio that helps incarcerated women reintegrate into society. Women enter the facility immediately after their release and stay anywhere from six months to a year.
Priscilla Murguia, executive director of the 10-year-old program, said Women at the Well provides housing, protection, food, and shelter for these women until they make the transition to living outside prison. "We knock on doors and ask for help," said Murguia, "and 80 percent of the ladies that begin with us make it through the program."
Women at the Well also evaluates educational and employment options for the residents and helps place them in jobs.
Five years ago, Susan Moore, a licensed clinical social worker and therapist, and Dr. Norma Martinez-Rogers co-founded Nuevas Fronteras, a support group for federal female offenders designed to combat the problems of recidivism. Initially, the program offered a 15-week curriculum, and it now operates on a one-year cycle, targeting issues such as trauma, parenting, relationships, women's health, and pregnancy. "Reentry planning begins while these women are still in prison," said Martinez-Rogers. "Someone has to start the process. Since most of these women have not committed violent crimes, chances are that they will be coming out of prison."
One of the program's biggest strengths is empowerment, she added, as it relies on the women to help each other.
Of the 12,400 females behind bars in Texas, 85 percent of them have children. According to Martinez-Rogers, 70 percent of children whose mothers are incarcerated will also end up in prison if there are no preventative measures taken. Education and strengthening families can improve the children's chances of breaking the cycle, she said.
Despite the statistics, it is still harder to obtain funding for prevention rather than intervention. "If we don't have any kind of follow-up, either they or their children will come back to us," said Rebecca Adams, a warden at Gatesville Prison. "We need a continuum of care, mainly for women. The biggest problem is that there are too many offenders and not enough programs for them."
Though Adams is a proponent of programs outside of prison, she pointed out that many programs exist for women while they are still incarcerated. Out of about 6,000 women in the Gatesville system in 2004, 354 earned their GED while still in prison.
"I also tell my women, You're the cream of the crop of criminals; you should be able to get your GED,'" said Martinez-Rogers.
Martinez-Rogers said breaking the cycle of criminal behavior won't happen quickly. "It's generational; their children are heading in the same direction. Their children need the understanding of how not to make the same mistakes." •