Cable-Westwood residents question SAHA's plans to build mixed-income housing between two floodplains
On Thursday, September 22, as travelers from Houston and Galveston lined I-45 in a frustrated attempt to avoid Hurricane Rita, Councilwoman Delicia Herrera motioned to postpone, yet again, re-zoning five acres of District 6 property because of issues of flooding and traffic.
Developer NRP Group LLC is asking for a rezone of the land, which sits between Highway 90 and Old Highway 90, from industrial use to multi-family residential. The developer has partnered with SAHA to build a 17-acre mixed-income community called Costa Valencia. But Cable-Westwood area residents say the land isn't safe: The proposed public housing development would sit between two floodplains along Westwood Village Creek and Leon Creek.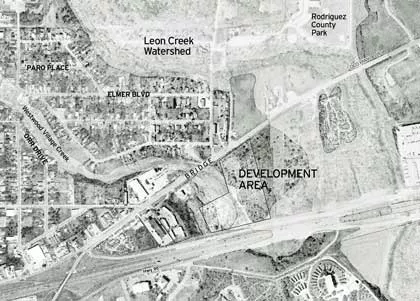 A proposed public-housing development, Costa Valencia, lies in a flood-prone area.
(Based on a FEMA map)
On the previous Tuesday, representatives from SAHA and NRP met with about 30 Cable-Westwood area residents and Herrera in the cafeteria at Cable Elementary School in what was supposed to be the final meeting to discuss the flood concerns.
NRP is contracted to build, maintain, and manage Costa Valencia for 15 years, at which point SAHA takes full ownership, Debra Guerrero, an NRP representative, explained to residents, The developer closed on the Costa Valencia property in April and originally was scheduled to bring it before City Council for a re-zone in June. At that point, NRP had planned Costa Valencia as a 400-unit project, to be built in two phases.
NRP is required by law only to inform residents within a 200-foot radius of its development plans. In the absence of any neighbors in that area, it contacted the Cable-Westwood Neighborhood Association. In several meetings, and subsequent delays of the re-zone, residents expressed concerns about the impact the development would have on traffic, crime, the school district, and flooding.
The Edgewood Independent School District confirmed it could absorb students from Costa Valencia, and two studies determined the development's traffic impact would be a less than 1 percent increase over existing traffic. In response to concerns about traffic flow on Old Highway 90, NRP adjusted development plans to put the main entrance on Highway 90. Not content with the Federal Emergency Management Agency's maps of the floodplains, NRP commissioned a more detailed study and, in response to what they found, re-drew Costa Valencia's site plans, eliminating the Phase Two portion of the project. "We're not building in the floodplain," said Guerrero. "We have to meet the strict standards of the city; they won't allow us to build in a floodplain. And we have a $21 million investment - our investors, corporate America, won't allow us."
"Is meeting the standards enough?" asked Hector Murillo, a community activist and Meadow Cliff Annex resident. Murillo has visited other NRP sites and says they are "beautiful" and that Cable-Westwood residents would welcome the economic development and taxes for their school district, but, he wondered, "Is it a wise choice to build a development, to put families, in the cradle of the flood plain?"
Murillo said area residents are still recovering from a 2001 flood in which heavy rainfall brought 5 feet of water into Meadow Cliff Annex. Damage to 14 houses on Orr Drive, which runs along Meadow Cliff Creek, was so severe that the city removed the homeowners and bought their property with a $630,000 bond in 2003.
According to Murillo, the Old Highway 90 bridge over Westwood Village Creek exacerbated the 2001 flood. The already too-narrow space beneath the bridge was blocked by debris and trash, which caused water to back up and overflow the creek. At the same time, water flowed over the bridge, and both Highway 90 and Old Highway 90 were closed due to flooding, effectively blocking all of the entrances to Meadow Cliff Annex, so residents were stuck in the subdivision. "We were an island," said Murillo. In a similar flood situation, residents worry, Costa Valencia might also become an island.
A Cable-Westwood resident asked Guerrero if NRP would tell Costa Valencia residents that their homes sit between two floodplains. "They'll see the green space and they'll know," Guerrero answered.
"They'll see the green space and they'll know?" repeated Murillo.
"No, no, we will tell them," Guerrero corrected herself.
Residents also questioned whether or not Costa Valencia would be covered by federal flood insurance. "We are not in a flood plain," answered Guerrero, "so we are not required to have federal flood insurance." If the property were to flood or cause flooding, NRP's property insurance would cover the damage.
"`The City` won't allow us to build in a floodplain. And we have a $21 million investment - our investors, corporate America, won't allow us."

Debra Guerrero
Joleen Garcia, District 6 constituent affairs director, said it will cost $1.3 million to fix the bridge. Herreras' office is looking into a bond issue, which would come before the voters in 2007. If it passes, Garcia estimated it could then take "up to three years before we would see any progress on the bridge." In the meantime, pending the re-zoning application, Costa Valencia is slated to break ground in March of 2006 and open in January 2007.
On Thursday, Cable-Westwood Neighborhood Association issued a statement saying they would not support the re-zone until the bridge was rebuilt. This came as a shock to Guerrero. "Outside of Hector, this is the first indication we've had that the neighborhood association would not support re-zoning," she says. "From the beginning, they were only worried about the flooding, which they feel the city has not addressed."
Herrera delayed re-zoning the property until October 6, buying her office more time to secure funding for the new bridge. "We need to look at the flooding causes. Is the bridge the cause of the flooding? It seems to come as a result of improper maintenance of the creek, but that may not be solely the city, it may also be the residents."
While the bridge is not NRP's to fix, Guerrero, a former City Councilwoman, has promised to work with the neighborhood association to "put the City's feet to the fire," and help secure funding to do the work. Yet, good will aside, it remains unclear whether or not the residents would support the development even with a new bridge. "If they rebuild the bridge, they have egress, that's great. But if I were the developer, I couldn't in good conscience put families in that location," says Murillo. "Why even go there? As the developer I'm betting `the 2001 flood` won't happen again, but someone else is taking the risk." •
By Susan Pagani