Suicide-prevention progam comes to town
Eight years ago, 16-year-old Jason Flatt put his father's .38-caliber pistol to his head and took his own life. Jason was an average, all-American teenager. He loved sports, especially football, and had lots of friends. He was white and middleclass. He was also the face of the nation's typical suicide victim, and he became one of the 100 young people who dies of suicide each week, making suicide the third-leading cause of death for people ages 15 to 24.
"Jason was not the picture of anyone who would `commit suicide`, but he's exactly the person we are losing today to suicide," said Jason's father, Clark Flatt, who found Jason's body in his son's bedroom.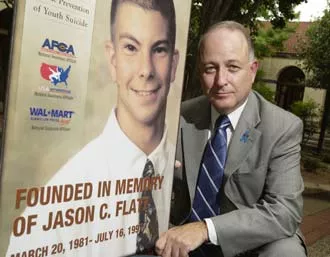 Jason Foundation founder Clark Flatt, kneels next to a poster bearing his son Jason's picture. Flatt started the foundation following the suicide of his son in 1997.
(Photo by Mark Greenberg)
Clark, a retired United Methodist pastor, says he worked hard to become a good parent, attending every PTA, church, and community meeting. He learned how to talk to his kids about drugs and alcohol, gangs, and other problems that affect the nation's youth, but suicide, the "silent epidemic," was never a topic.
"I was angry as a parent," he says. "No one ever talked to me about suicide being a threat to my children."
In 1996, the year before Clark lost his son, more teenagers and young adults died of suicide than from cancer, heart disease, AIDS, birth defects, stroke, pnuemonia, influenza, and chronic lung disease combined. Suicide is the leading cause of preventable death in the United States.
Clark channeled his anger in a positive direction, starting Jason Foundation, Inc., a not-for-profit, national organization that provides information, tools, and resources to students, educators, and parents to help them recognize potentially suicidal behavior and guide them to local suicide-prevention resources.
JFI has teamed with Laurel Ridge Treatment Center to bring a suicide-prevention campaign to San Antonio by opening up a JFI affiliate office in town that will offer school-based curricula for students, in-service presentations for teachers, seminars for parents, and community information. The campaign will also include a 24-hour, seven-days-a-week resource line that offers information about suicide among youth. The Community Assistance Resource Line, CARL, will be staffed by clinically trained professionals at Laurel Ridge, Mission Vista Behavioral Center, and Compass Hospital.
The suicide-prevention campaign kicked off with an open house July 20 at Laurel Ridge, where District 10 Councilman Chip Haass read a proclamation by Mayor Phil Hardberger declaring the date Youth Suicide Awareness Day in San Antonio.
Suicide stats

• Although white males make up the majority of completed suicides, from 1980-1995, suicide among black youth ages 10-14 increased 233 percent and in black youth ages 15-19 suicide rates increased 126 percent. For black youth in the South, there was an increase of 214 percent.

• Ten percent of U.S. college students admitted having serious thoughts about suicide. Seven percent had a plan.

• Four times as many males complete suicide than females, but female teens attempt suicide twice as frequently as male teenagers.

• Only 36 percent of the youth at risk for suicide in 2000 received mental-health treatment or counseling, the majority through school-based programs.

• Warning signs include depression, unusual behavior, a preoccupation with death, giving away prized possessions, and statements of hopelessness, helplessness, or worthlessness.

Info: 1-877-778-CARL or
1-800-SUICIDE.

Source: Center for Disease Control and Jason Foundation, Inc.

Former San Antonio mayor Henry Cisneros told the crowd, "We're making it possible for young people to see the joy of life. To have a resource that can do that is nothing less than life-changing and life-saving." Haass, an educator for seven years, said, "There are a number of issues that seem to bug the educational community. We continue to repeat the mistakes. It's always the same thing. `Teachers say, it's` not in my backyard."
Denial is one of the reasons suicide is referred to as the silent epidemic. According to Suicide Prevention Services, 83 percent of gun-related deaths in homes where firearms are kept for "self-protection" are suicide, often by someone other than the gun owner. More than half the people who attempt suicide use a firearm. Clark, a native of the "strap it on your side" state of Tennessee, kept his pistol under lock and key until his son was 14, when he thought his son was old enough that he would not "play" with and accidently fire the gun.
"If the cabinet had been locked, he would have to have stopped to think about `what he was doing`," Clark said. "We need to limit easy access `to guns`." He suggests locking guns and ammunition in separate places.
Clark also warns to keep an eye out for early signs of suicidal behavior. Four out of five young people who attempt suicide have shown clear warning signs, according to JFI. Typical behavior exhibited by at-risk youths includes depression, abrupt changes in behavior, mood swings, crying spells, and changes in school performance.
"Students see changes in their friends way before anyone else," Clark said. In a recent study by JFI, students were asked who they would tell if a friend were exhibiting at-risk behavior. The No. 1 choice was an educator, whether it be a principal, teacher, or coach.
JFI is endorsed by the American Football Coaches Association, with Phillip Fulmer, the head football coach at the University of Tennessee, as the national spokesperson. Head football coaches at the University of Texas, Texas A&M University, and Texas Tech University, among others, also act as ambassadors to the organization, helping to spread the word about the epidemic. JFI has also partnered with Psychiatric Solutions, Inc., which owns Laurel Ridge, and plans to have 52 offices nationwide by May 2006; it currently has 26.
"I like to look at us as a family," Clark said. "This is not the Jason Foundation riding into town. We're here to help what's already here."
At the open house, Cisneros also commended Clark for being able to say, "I can't bring my son back, but I can save other people's children." "It's a very powerful thing," Cisneros said. "Anytime that a family is touched by the loss that the Flatt family experienced, it's a moving thing."
The suicide-prevention program offered by JFI will be available to everyone in the greater San Antonio area. "It all begins with education," Clark said. "We have to start diagnosing depression in our nation's children. No one organization can make the difference." •