Nia Vardalos — My Life in Ruins
By Kiko Martinez
San Antonio Current contributing writer
In her new film "My Life in Ruins," Nia Vardalos, star and Oscar-nominated screenwriter of 2002's "My Big Fat Greek Wedding," returns to her Greek roots as Georgia, a down-on-her-luck tour guide who leads a group of diverse tourists through Greece for what becomes a trip of a lifetime.
During an interview with me, Vardalos talked about how Greeks and Latinos are similar, her idea for a sequel to "My Big Fat Greek Wedding," and why a private joke about Angelina Jolie ended up in the final script.
Since you were nominated for an Oscar in 2003 for "My Big Fat Greek Wedding," is that something your striving for again in your career?
That was such a surprise when that happened. I've never really been a person that thinks about things like that. That's just too outer space for me. So no, I don't think about that at all. I like the sound of people laughing. That's what I strive for.
Was it hard for you to step back on "My Life in Ruins" and let someone else take on that responsibility of writing since you usually do that for your own projects?
No, I loved it. I just added a little bit to the script, but I absolutely loved that the script was written for me. I thought it was a big gift.
Do you think "My Big Fat Greek Wedding" resonated with Latinos because there are a lot of similarities between the Latino culture and the Greek culture in terms of family?
We are the same. That was the big surprise for me. I thought I wrote a movie about my little Greek family and `people` told me, "No, this is like my family." Latino people told me, Japanese people told me, German people told me, French people told me and that's when I realized it was a happy accident. I didn't know that everyone had this family like mine, but it certainly makes me feel better.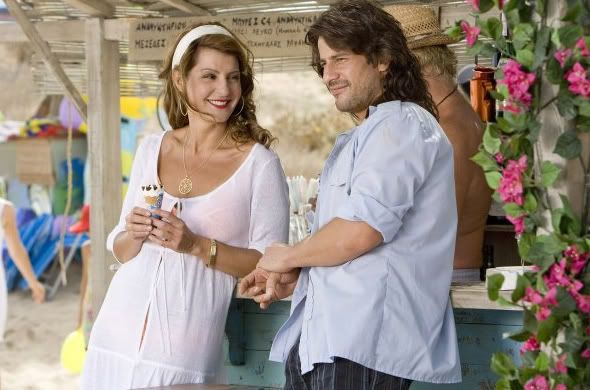 I'm sure like Georgia you are a history buff when it comes to Greek history. Are there any other kinds of history that you like to study?
Absolutely. I loved my time in Spain. I thought it was just so culturally rich. When I got to go to Japan with "My Big Fat Greek Wedding," I got to celebrate a tea ceremony. It was so quiet and steeped in history. It was a very beautiful experience. Every country that I go to when we land I like to take the currency of that country and then the hotel card and then just walk and absolutely disappear. Then when I'm lost I just go up to a cab driver, give them the card and get back to the hotel.
What kind of producers are Tom Hanks and Rita Wilson? Are they on the set looking over people's shoulders or do they give freedom to the cast and crew?
They are very much about freedom and autonomy. It's why I love the freedom of making an independent movie, but then there's the struggle to get the word out there when you make these little movies. So it's a bit of a Catch 22. But Rita Wilson and Tom Hanks are so celebrating of the artist. They like to put creative people together and then let some magic happen.
Is there still an idea for a sequel to "My Big Fat Greek Wedding" floating around?
I have an idea for the sequel and it is in the works, but I don't want to give anything away. I'll just tell you this: our characters need to be a little bit older for my idea for the sequel. I didn't want to wait to shoot another movie about my heritage because I am, as you know, very Greek. I appreciate the people who want the sequel. Believe me, they tell me every day as I'm trying to buy a newspaper on the street. However, I think "My Life in Ruins" will satisfy the people who want a sequel because it's a Greek story and it will also satisfy the people who don't necessarily want to see a sequel. I think it's the perfect marriage. It's the same type of humor. It's very nice, sweet humor and it's about a lot of people trying to get along.
How did Angelina Jolie's name get into the script?
Because of my own pursuit of adoption, it just became a private joke. I wrote about it on the Huffington Post. I said the common misconception is that to adopt a child you have to be as pretty as Angelina Jolie and go to another country. But that's not actually the case. We have children in our own countries and, again, I would never disparage anyone who goes to another country to adopt a child. I admire her and I think she's done more for adoption than any other celebrity. So, it was just a little private joke.
You tried to translate the success of "My Big Fat Greek Wedding" to television with "My Big Fat Greek Life" and unfortunately the show was cancelled. Did you think it was fair to cancel the show after only seven episodes? Do you ever see yourself going back to the small screen?
It happens. People try and it doesn't work all the time. Sure. I love doing "My Boys" because the writers are two friends of mine. We'd had them over for dinner and I was saying, "Oh, no I never get offered things that I didn't write." And they said, "Hey, do you want to be on our show?" And I said, "Yes." I'm open. I'm very open to trying new things.
What's the biggest misconception about Greek people? What do people think that's not really true?
I think they think that they're not on time. We found with our film that the professional crews surpassed all our expectations. I think that the concept of Greek time is being a little bit late. I think that that might just be Greeks in North America. I think we took that over with us. We brought that over with us to North America, but it's not true anymore.