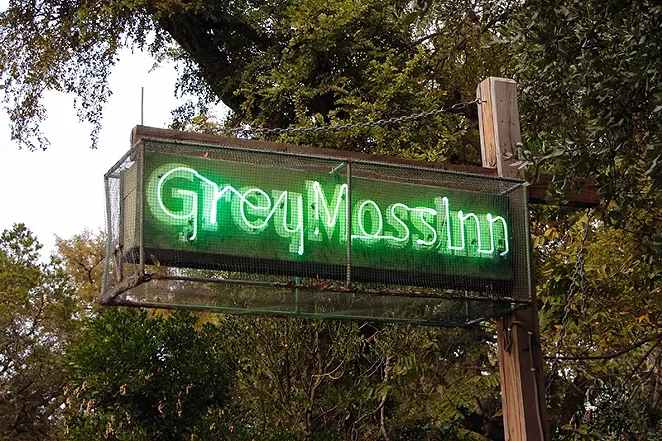 Albert Salazar
Signage at the Grey Moss in in Grey Forest
I could blame it on a ghost tour at the Institute of Texan Cultures for my fascination with all things spooky. Until then, I hadn't really put much thought into the afterlife. Even if you fancy yourself a logical, scientific being, like I often do, it's plain fun to suspend belief and let adrenaline rush at the thought of something otherworldly hanging around your hallway ... or favorite restaurant.
The Sister Grimm dinner tour gave me my first taste for ghoulish dinners — the women behind the company can really set a scene. During a tour inside the Menger Hotel in 2013, the leaders let ghost enthusiasts chit chat in low whispers inside a sprawling banquet room that was filled with our small group of 40 or so participants. At $65 for adults, ghost fans can enjoy a history lesson and three-course dinner inside the Colonial Restaurant (wear comfortable shoes — the ghost tour portion through downtown is quite the hike).
Outside of the planned tours, the haunted eats continue. Much like The Cadillac Bar, which sits on South Flores (read more about it on page 47), Taps y Tapas also sits along El Camino Real. Now known as Kings Hwy. Brew & Q, the eatery has its fair share of history.
"When we were researching a name for the new place, we learned that the whole area of North Flores was one of the main ways to get into downtown in the 1800s. Major routes went through Five Points and San Pedro Creek — the history of the area lends itself to being kind of spooky," owner Denise Aguirre said.
Aguirre and partner Noel Cisneros have heard multiple accounts from staff as to what's inside the former home of Charles Ochse. Originally built in 1883, the house has had its fair share of tenants. Whether it was the feeling of something standing behind her while she worked on her computer, or particular employees feeling picked on by a spirit, she's heard and seen it all.
"Little things would fall off the counter, the alarm would go off or not set," Aguirre said of the activity. "He used to say 'I know there is a ghost here, I know it's fuckin' with me."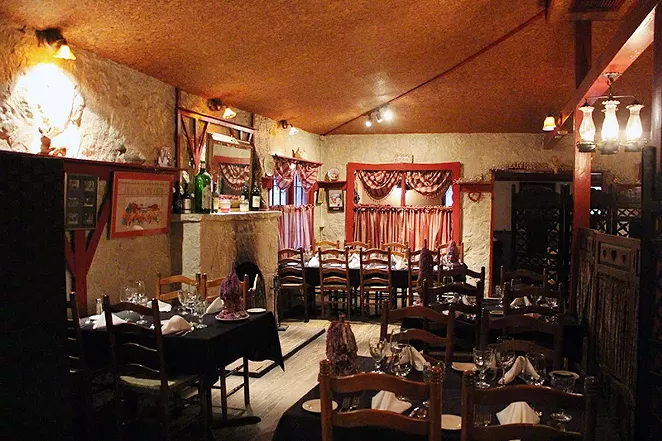 Albert Salazar
The main dining room at the Grey Moss Inn
Over in Helotes, Grey Moss Inn has tallied up plenty of lore. Former owner Mary Howell is still seen and even smelled from time to time, along with her staff and custodians, according to an article by Cynthia Leal Massey, available on Grey Moss Inn's website, which details the restaurant owner's life. Investigations have taken place through the years both inside the eatery and in the cottage out back with similar results.
"What is most interesting about the results of the investigation is that there appears to be several spirits, in addition to that of Mary Howell, residing at the restaurant. While mostly benign, some are rather mischievous," Massey notes of a 2007 investigation.
Along Broadway, the staff at Vegeria Vegan Tex-Mex hasn't been immune to paranormal happenings. According to restaurant owner Fred-Anthony Garza, the activity started early on.
"Pretty much when I signed the lease, I kept hearing someone call my name," Garza said.
Servers, and even Garza's mother, have felt a hand touch their shoulder and have heard toilets go off on their own, but the eerie activity hasn't always been so ordinary. Garza recalls working until the late hours of the morning a few years ago and hearing "pacing in the breezeway." After he got up to check out the noise, the owner, who was alone at the time, heard both toilets flush. "I was freaked out but had lots to do," he said. Garza only left after a light bulb hanging over the bar exploded.
The "freakiest" incident to date, as he recalls, took place when a boiling pot of water was thrown on the kitchen floor by an unseen force.
Hot Wells ruins caretaker and artist Justin Parr had to get used to a few unlikely visitors when he first moved into the property.
"I had a bunch of people show up, various ghost hunters, drove me crazy," Parr said. Though he doesn't come out and call himself a believer, he's also not completely opposed to the idea of ghosts. After this year's Harvest Feast, Parr shared an image from local ghost hunter and paranormal buff Russell Rush that featured a hazy figure hanging out along one of the ruin's windows.
"When the hot springs were still open, it'd be midnight on a full moon, and I'd walk around the property hearing things banging around and clanging, so you never really know," Parr said.