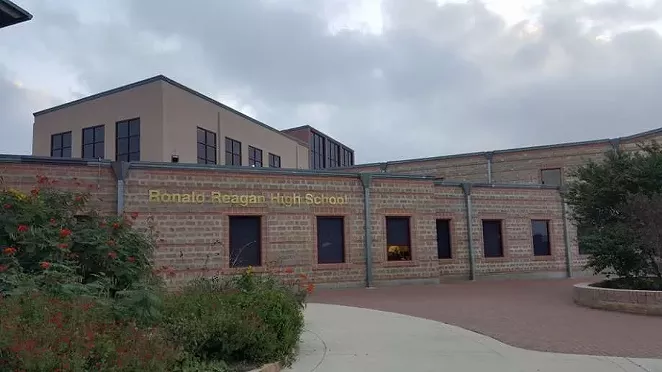 Reagan High is the latest San Antonio public school that's dealing with an inappropriate teacher-student case.
On Tuesday, San Antonio public schools were struck with another allegation of an inappropriate educator-student relationship.
According to the Express-News, a 44-year-old teacher at Ronald Reagan High School resigned
after allegedly exchanging text messages with a female student. (At the time of writing, the Northeast Independent School District was still keeping the teacher's name under wraps.)
Whether it's an
Edgewood ISD chemistry teacher allegedly impregnated
a Memorial High School student, or a
soccer coach accused of flashing photos of his junk
on his cell phone to a teenaged girl, the number of inappropriate teacher-student cases in Texas keeps piling higher and higher onto the desks of the Texas Education Agency and law enforcement.
In the 2015-2016 fiscal year (September 1 to August 31), TEA opened 222 cases involving an inappropriate relationship between an educator and student or minor, an all-time record. In the current fiscal year, from September 1, 2016 through January 31, TEA opened 97 new cases.
Why the increase?
"Any answer I'm going to give is going to be speculation. We have a couple of theories, but we're not sure, to be honest," says Lauren Callahan, information specialist with the Austin-based TEA.
"We don't collect data on how our inappropriate relationships cases get started, but our director of educator investigations [Doug Phillips] would tell you that 99.9 percent of them have some sort of impetus in electronic media and social media," says Callahan.
It's not unusual for TEA to forego detailed data collection on inappropriate relationships because nobody else gathers this type of data, says Terri Miller, president of the Las Vegas, Nevada advocacy group Stop Educator Sexual Abuse Misconduct and Exploitation (S.E.S.A.M.E.).
"There have been so few recent studies that quantify the problem. We really can't say if it's on the rise or not because nobody is collecting data," says Miller. "We're trying very hard to get grants to do quantitative studies and we are pushing for our federal Department of Education to do a quantitative study. We believe the Office for Civil Rights, in their civil rights data collection project, should be collecting this information. They're collecting information on student-to-student sexual harassment and sexual misconduct and sexual violence, but they're not collecting anything on the adults that they define in their glossary as possible perpetrators."
"There's not one question, one question at all, in their data collection form that asks about adult-to-student sexual victimization and perpetration. They even ask how many students have been expelled and suspended for sexually harassing another student," explains Miller. "We would like to see them add adult in there. They won't. It has been this way for years."
In November, Lt. Gov. Dan Patrick, as part of his announced top 10 legislative priorities, listed inappropriate educator-student relationships in the seventh spot. Soon thereafter, Texas lawmakers filed Senate Bill 7 and House Bill 218; each would bolster reporting requirements for school officials. Callahan says that a committee hearing for SB 7, filed by Sen. Paul Bettencourt (R-Houston), is scheduled for Thursday in the Texas Legislature.
TEA wouldn't comment on the specifics of the pending legislation, but spoke to the
Current
about general policies they would like to see implemented.
In addition to requiring all 1,200 of Texas' public and charter school districts to adopt a local electronic/social media policy (some districts already do this, but it's totally voluntary) and expanding the reporting requirements to not only include superintendents but also principals, TEA hopes for a change to the section of the Texas penal code related to improper educator-student relationships.
"It specifies that the educator and student must be in the same district," says Callahan. "This is just an example, but if you're an educator in district A and you live in a massive sprawling area, and the student lives three streets over but goes to district B, the penal code doesn't recognize that as an inappropriate relationship between an educator and a student. We do. And if we find out about it, we will open a case. But the penal code does not."
TEA is also hoping to procure close to $400,000 in biennial funding to hire two additional full-time investigators and a staff assistant.
"The number of cases overall have increased and our staff certainly hasn't increased to the same extent," says Callahan. "We are pretty short staffed."