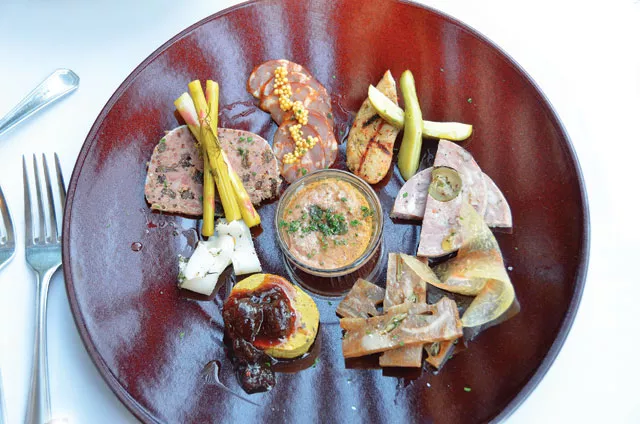 During the worst years of the recession, chef-driven restaurants dropped like flies in the hardest-hit regions; bereft of the corporate credit cards that fueled the party, fine dining was declared dead. Dining clubs with waiters in livery performing synchronized serving shuttered their doors (or dimmed the lights to avoid envy), and a new populism came in vogue. By 2009, hotel chefs were serving deluxe variants on mac n' cheese in an effort to portray an appropriate humbleness, while fashion designers concocted fake work jackets that cost a bundle, but could pass for a Carhartt at a distance.
Coming out of the bad times, home cooking quotes have become vital to the New-New American cuisine, but even back in the darkest hours, dreams of Europe persisted, and a resurgence in chef-made charcuterie has gained speed. The art, which encompasses the making of sausage, bacon, head cheese, and the like, arose as a way to preserve meat before refrigeration, using salt, smoke, and controlled aging as agents. It often uses parts of the animal that would otherwise be thrown out, and so is known as the "fifth-quarter." Though what began as country frugality developed items like terrines and pâté that are now associated with haute-cuisine, the practice still celebrates the refusal to waste — a statement of principles that encompasses devotion to tradition, and no small amount of culinary skill.
This week 10 top kitchens — Feast, Laurent's Modern Cuisine, Lüke, Restaurant Gwendolyn, Bliss, The Monterey, Blue Star Brewing, Where Y'at Food Truck, Cappy's Restaurant, and Tre Trattoria in Alamo Heights — show their artisanal talents during San Antonio's inaugural Charcuterie Week, running through October 30. Char boards at all restaurants are $15 each, presenting an array of entirely handmade sausages, pâtés, and cured meats. For more information, visit the above-named, or contact the organizers at Restaurant Gwendolyn, 152 E. Pecan, (210) 222-1849, restaurantgwendolyn.com.