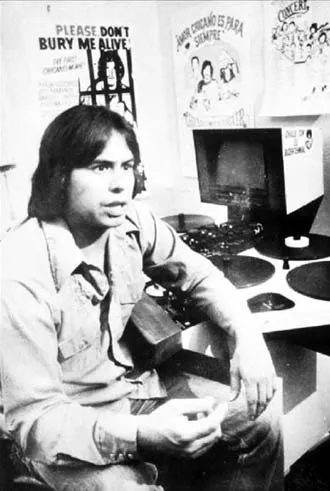 A young Efrain Gutierrez sits in front of posters from his first two feature-length films, Please Don't Bury Me Alive and Amor Chicano es Para Siempre. Low Rider Weekend in San Quilmas marked Gutierrez' return to the big screen in 2001. UCLA's Film and Television Archive is in the process of remastering Gutierrez' pioneering work from the '70s.
UCLA's film archive exhumes and restores the work of Chicano filmmaker pioneer Efrain Gutierrez
At his creative peak in the mid '70s, Efrain Gutierrez made a trilogy of hard-hitting, downbeat films about urban Raza that transformed the face of Chicano cinema: the small-time dope peddlers, would-be revolutionaries, cheating lovers, and drug addicts who populate our barrios alongside the blue collar laborers, first generation college students, and cultural workers. Then, for all intents and purposes, he disappeared from the public eye for the better part of two decades.
Gutierrez resurfaced in 2001 with a career retrospective at the Guadalupe Center's CineFestival that coincided with the release of his fourth full-length movie, A Lowrider Spring Break en San Quilmas. Most recently, the University of California-Los Angeles' Film and Television Archive's Festival of Preservation honored Gutierrez with a special screening of a fully restored print of Please Don't Bury Me Alive, his directorial debut and the first Chicano feature-length film.
A West Side San Antonio native, Gutierrez became involved with the Chicano Arts Theater, an area teatro troupe, during the height of the Chicano movimiento in the '60s and early '70s before delving into film production. Today, the energetic, personable 58-year-old lives in a modest casita not far from the streets he knew as a teenager, where he is at work on another independently produced movie even as he attends classes in order to share his passion with a new generation of barrio youth.
Gutierrez is warm, friendly, and frequently gestures when making a point - nothing at all like the elusive, enigmatic, and angry figure his reputation made him out to be. ("If you listen to people talk, I'm a person to stay away from," he says.) He's also more animated than Alejandro Hernández, the sullen, pensive protagonist he plays in Please Don't Bury Me Alive, an intense, if uneven, meditation on identity and survival wrapped around the tale of a petty dope peddler who has dreams of doing something better for the community.
Chicano cinema - by, for, and about Chicanos, to borrow film scholar and Corpus Christi native Rosa Linda Fregoso's definition from her 1993 book The Bronze Screen - was still in its infancy, limited to predominantly male-produced documentaries and shorts, when Gutierrez decided to pick up a camera and teach himself the basics of filmmaking.
Despite his admitted lack of formal and informal cinematic training, Gutierrez and co-writer Sabino Garza began production in 1972 and continued over the next several years to develop what became Please Don't Bury Me Alive. "We weren't writers; we didn't know we could write," he says over breakfast at his favorite taqueria. Undeterred, they drew from their own experiences in detailing the exploits of Hernández hustling and trying to get by on his own terms, much like Gutierrez, while wrestling with what it meant to be a Chicano at that particular time and place in and around the urban barrios of San Anto.
With a series of grants and a stroke of good luck, Gutierrez and Garza managed to finance their movie. "When we finished, I knew we had something, but I didn't know what." Only later did he find out that they had completed the first feature-length Chicano film.
Chon Noriega, director of the Chicano Studies Research Center at UCLA and a professor of film and television, admires Gutierrez' do-it-yourself determination. "Efrain was the first one to go out there and do it," he says. "He showed how to do it without Hollywood. He showed a bunch of other filmmakers it could be done.
"You could, through hook or crook, get a film made and show it to an audience."
Using a technique called "four walling" - in which they paid a set price to rent a theater and kept the proceeds instead of following the more typical route of splitting a percentage of ticket sales - Gutierrez showed Please Don't Bury Me Alive at Century South (at what is now Santikos' Mayan Plaza). Fearing the worse, Gutierrez thought nobody was going to show up. After the Thursday night premiere, he hid for the weekend. Finally, someone from the theater called saying there was a problem and they needed him over there.
"Chingao! I didn't want to see nothing of that," he exclaimed. When he made it to the theater he noticed the lines around the block, but thought that they were for the other films showing at the time. As he got closer he realized they were for Please Don't Bury Me Alive. "Efrain, you've got a hit," the manger told him.
As a child, Gutierrez' family followed the migrant trail through the Midwest; years later he found himself traveling the same path, screening his film to campesinos, church-goers, and college kids - the Chicano children of those same farmworkers who picked cherries in Northern Michigan and harvested cotton under the Texas sun. But before he reached California, Gutierrez sold the rights to Azteca Films, a Mexican distribution company, with the understanding that they would show it throughout Mexico. Instead they shelved the film at the peak of its popularity, effectively taking it out of circulation for the better part of three decades.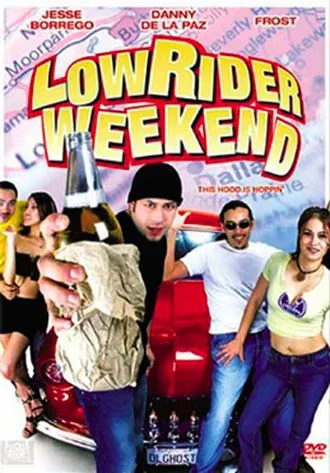 Theaters in Mexican-American neighborhoods had to get their films from Azteca. What Gutierrez had done as an independent producer and filmmaker was break their monopoly on Spanish-language movies. "If they wouldn't let me go into the Mexican theater, I would go into an American theater. I would pull Chicanos and Mexicanos, tambíen, and it hurt the Mexican theaters," he recalls. "When I sold the movie rights, that's it, no more money came in."

"As soon as I did this everybody started doing independent films," Gutierrez says, as he rattles off a list of self-produced border comedies and narco tales that followed in his wake. Both financially and as a challenge to the Mexican-dominated distribution system, they were highly successful for the time and, unlike Please Don't Bury Me Alive, they avoided any overt political themes, substituting instead light-hearted fare and low-budget action in place of Chicano ideology and identity struggles.

Those films accomplished what he set out to do, Gutierrez laments. Because of this, Gutierrez struggled to finance Amor Chicano es Para Siempre and Run, Tecato, Run, his two follow-up efforts; neither achieved a fraction of the critical and commercial success of his debut.

Amor Chicano, his second film, is a semi-autobiographical love story about a relationship on the skids. It predates the interracial affair and love triangles in Spike Lee's Jungle Fever and Mo' Better Blues, as the protagonist, again played by Gutierrez, carries on an affair with a white woman while his partner starts anew with a musician from a popular Tejano outfit. The sounds of Little Joe singing, in the spirit of la onda Chicana, dominates the soundtrack to the point that it is a character unto itself - much like the cool jazz of Lee's films - or the chorus of a Greek tragedy foreshadowing the film's bittersweet conclusion.

An outdoor music festival on the city's South Side - what he says could have been a "Chicano Woodstock" - flopped. An arrest on drug charges that later turned out to be false further damaged his reputation. "I felt I had let people down, even though I hadn't done anything," he says of the experience, which influenced him to write Run, Tecato, Run, his third film, and the last one currently undergoing restoration, from the point of view of a drug addict.

In the wake of the turmoil, Gutierrez decided to leave San Antonio and head out to California. On his way, he stopped in Laredo, where he met his wife. "We've been together ever since," he says. While there he became a teacher under an emergency certificate before spending the next 14 years as an organizer with the Texas State Teachers Association. When that job ended, he returned to San Antonio and took up filmmaking once again.

Gutierrez inaugurated his return to the director's chair with A Lowrider Spring Break en San Quilmas, a contemporary update of a comedy he initially wrote with Cheech and Chong in mind. Currently he's making what he calls a "Chicano sci-fi" movie about a group of kids who get sucked into another dimension and have to find their way back home. Between bites of his huevos rancheros plate (he leaves the egg yolks behind, post-2000 heart attack) he talks animatedly about future projects he'd like to work on, including a barrio history and a period piece set along the border in the time following Texas' independence. More than anything else, Gutierrez is anxious to complete his bachelor's degree and teach at the restored Edgewood Fine Arts Academy, his old school.

UCLA selected his first three films for inclusion in their archives and thanks to their restoration efforts, academics will now have his movies to discuss and debate in the hallowed halls of higher learning. So, too, will the rest of us. There's even a forthcoming book devoted to his work in the developmental stage.

More than 30 years after Gutierrez decided to make a movie, his place in the annals of Chicano and cinematic scholarship has been assured. "Please Don't Bury Me Alive is as raw and vital as it was when it first came out," Noriega says. Gutierrez' films don't have happy endings, he explains; they deal with dysfunctional relationships and issues like substance abuse that have caused great damage to the Chicano community. "It will be interesting to see what happens once the work is restored and becomes widely available." •