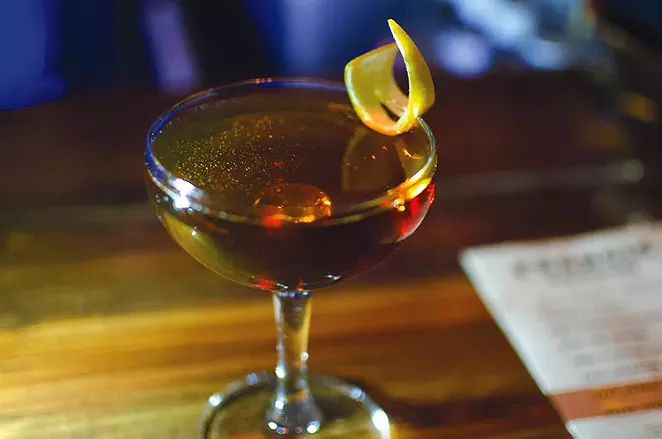 Jaime Monzon
Beat Around the Bush
Now, Steve Mahoney's track record speaks for itself. The guy's opened up several cocktail bars that have turned into hot spots, regardless of their previous use. Green Lantern is situated in a basement. Blue Box sits inside a former storage room, as does George's Keep at Eilan. He's got a knack for turning unused spaces into party playgrounds and it's safe to say he's done it again with Francis Bogside.
Mahoney's tapping his Irish heritage for his latest — Francis is his father's middle name and Bogside is a small area in Northern Ireland just outside of Derry with a large Catholic majority, where Columba (or Colm Cille) serves as patron saint.
"I've always kind of wanted to do my take on an Irish pub. A more modern take on it. Not something that's a touristy kitschy gimmicky place," Mahoney said a few weeks prior to Bogside's September opening.
The pub is unique in that it shares a kitchen with Brigid, named after St. Brigid of Kildare, another of Ireland's patron saints. Though Brigid features modern American fare, the menu at Francis lets the simple potato shine courtesy of chef Chris Carlson.
"Potatoes are the greatest thing or the most horrible crap that you tasted in your whole life. They can be so good if they're done and executed properly," Carlson said, and his Colcannon dish definitely lands on the former side of that quote. The bowl of skin-on mashed potatoes with carrots and onions was velvety and unique as far as bar food goes. You'll fine more Irish bites in the bacon and cabbage, rustic potato bread with blue cheese, corned beef hash and boxty, or potato pancake. This doesn't include the full Irish breakfast available from 4 to 6 p.m. on Sunday afternoons.
Unlike its Pearl counterpart (true story: I don't go to Blue Box on weekends after 7 p.m., it's just not for me), most visits to Francis Bogside are met with a quiet adult-like hum — no one's out of hand, everyone's behaving and no one's clamoring for seating space. Service has been even-keel and smooth, even with a lot of new faces behind the shakers. But they're not all new — behind the long, windy bar that seats something like 20 people alone, you'll find Nick Kenna (previously with Dorcol Distilling Company), Javier Treviño (of the FoodWhore Company) and Roy Guerrero (formerly at Concrete Jungle) are all back there as well. See if you can count the number of Jameson bottles on the shelves — it's easily more than a few dozen.
For her part, bar manager Christine Hill, who opened Blue Box, has developed an opening menu that's easy to love. The Deep Purple, bright amethyst cocktail, turned me onto vodka once more. Combining vodka, blackberry, lemon, lavender and bubbles, the drink served as a pretty and perfect toast for a recent night out. The Irish Old Fashioned with Irish whiskey (obviously), Guinness Extra Stout syrup and orange bitters, and garnished with Luxardo cherries presented on black plastic screws is well-executed, but I'd love to see it over a large format ice and not the smaller cubes his version carries with it.
If this is the last stop of the night, and really it should be after dinner at Brigid, I'd recommend the Beat Around the Bush, which is a cheeky misnomer for an otherwise exceedingly boozy, but balanced drink. This being a neighborhood Irish pub, you'll find a solid list of beers on draft and a few canned and bottled selections to choose from. Yes, this includes Guinness.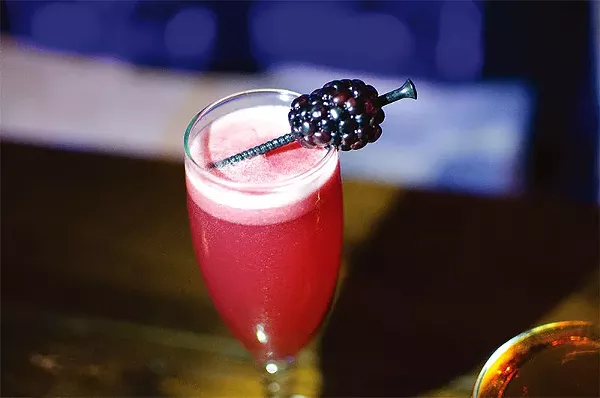 Jaime Monzon
Deep Purple
The space itself rivals George's Keep for most eye-catching. Like Blue Box, the space keeps certain industrial touches, but the dark wooden fixtures, comfy black stools and steely bar tables make for a very strapping bar. It's rugged, but sleek, well built and comfortable.
To put it simply, Francis Bogside is an older, wiser Mahoney's version of an Irish pub, and one that you should visit post-haste. I can't vouch for this mature atmosphere once St. Patrick's Day rolls around.
Francis Bogside
803 S. St. Mary's St., (210) 988-3063, francisbogside.com, 4pm-2am Mon-Sat; 4pm-midnight Sun