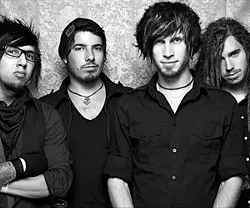 Release Date:
2009-12-29
SA's Nothing More has collected quite a few legitimate awards in the last couple of years. Out of 13,000 bands, Nothing More won the Warped Tour Battle of the Bands in 2007. The previous year, Clear Channel named them "Best Alternative Rock Band" at the Texas Buzz Awards. Their performances take inspiration from high-energy productions like Blue Man Group and Stomp, and their music is of the high-octane rock variety. "Fat Kid" is a well-produced example of Nothing More's sense of humor and rough-edged sound: In the song, Jonny Hawkins sings, "One day, I'm gonna rule the world, steal your girl — not bad, not bad for a fat kid." $10-$12, doors at 8pm, Scout Bar, 19314 US Hwy 281 N., #110, scoutbarsa.com.
Support Local Journalism.
Join the San Antonio Current Press Club

Local journalism is information. Information is power. And we believe everyone deserves access to accurate independent coverage of their community and state. Our readers helped us continue this coverage in 2020, and we are so grateful for the support.

Help us keep this coverage going in 2021. Whether it's a one-time acknowledgement of this article or an ongoing membership pledge, your support goes to local-based reporting from our small but mighty team.

Join the San Antonio Press Club for as little as $5 a month.