On Wednesday we suggested the NRG nuclear "road show"
may not be welcome around San Antonio
, what with that $32-billion fraud lawsuit so recently behind us. Certainly, it's not a topic the mayor's office is keen to step into. Neither is it a favored topic in Austin, where the mayor's office there failed to return a call about NRG lobbying efforts up the road. NRG Energy is still scrambling to get purchase contracts with regional utilities for the proposed two new nuclear reactors that will make it's application for federal loan guarantees more likely.
While a report today from an
Express-News editorial board meeting
with CPS CEO Doyle Beneby shows we were right on the point of federal loan guarantees nearing for STP 3&4, we underestimated Beneby's willingness to trot out a possible purchase agreement, announced at the closed
E-N
press conference, CPS' historically favored venue for dropping major bombs on the city. At that meeting, Beneby admitted that we as a city have a lot of leverage in the deal, ie. if we buy in, other utilities are more likely to follow, meaning the DOE will be more likely to support the project with taxpayer funds.
If CPS and NRG can come to an agreement, other local municipalities and utility co-ops NRG has been wooing might follow suit, Beneby pointed out. [Juan] Garza [NRG's president of advanced technology initiatives], agreed and said those deals would "greatly enhance" the project's chances of getting the loan guarantees crucial for making the project profitable for NRG.
CPS spokesperson Lisa Lewis told the
Current
that Beneby has been having "informal conversations" with NRG/Toshiba reps and expects to present the CPS Board on Monday with a Memorandum of Understanding from NRG. However, any details related to price would likely follow in future meetings, Lewis said. "Really, it's sort of an informal step to agree to have conversations about the proposal," Lewis said. "We are not expecting it to contain any specifics, like price, or cost, or rates." It's ironic that the deregulated power market of Texas could be the setting for a minor nuclear revival built on federal loans from the U.S. and Japan. The so-called nuclear "renaissance" that saw more than 20 new nuke projects proposed to the U.S. Nuclear Regulatory Commission in the last few years is today "dead in the water," according to a February 11 report by
Mark Cooper
of Vermont Law School's Institute for Energy and the Environment. Cost estimates for new nukes presented at the time the various applications were submitted was one thing. (You may recall STP's was around $8 billion initially, but ballooned to $18 billion, at which point most of our local leaders balked.) "When it came time to talk about actually building the things, they doubled, tripled, and quadrupled the cost," Cooper told the
Current
today. Only three or four of those 20-plus projects could be considered in play today — chiefly Georgia, where Southern Company received $8 billion in federal loans a year ago. The only thing that can get these high-dollar efforts moving now is "a French-style socialist arrangement under which the industry (by government fiat) has unlimited access to taxpayer-backed loan guarantees and the pocketbooks of ratepayers," Cooper writes. "NRG cannot support the project, nor would the free market in Texas support the project. The economic consequences of this project are disastrous. Here you have what may be the freest electrical market in the country, and it's clear the free market will not digest this plan. [NRG] is looking for three non-market funders: the federal government, the Japanese banks, and now they're looking for captive customers. It is the quintessential example of nuclear socialism." Given the very recent history of the NRG-Toshiba-CPS nuclear fiasco, "Mr. Beneby's being extremely careful to make sure there's a very clear, distinct process around how any conversation will take place," Lewis said. San Antonio remains a 7-percent partner in the project. We'll see. "If San Antonio does its due diligence sets up a competitive bidding process, I think nuclear socialism is done, blown away by market forces," said Cooper. Given our growing portfolio in solar and wind, efficiency gains, and the ever-cheapening natural gas, let's hope CPS' Board has the sense to weigh whatever NRG/Toshiba
's
brings to the table with an open, competitive process for any perceived long-term power needs. One thing we can bank on, nuclear isn't getting cheaper...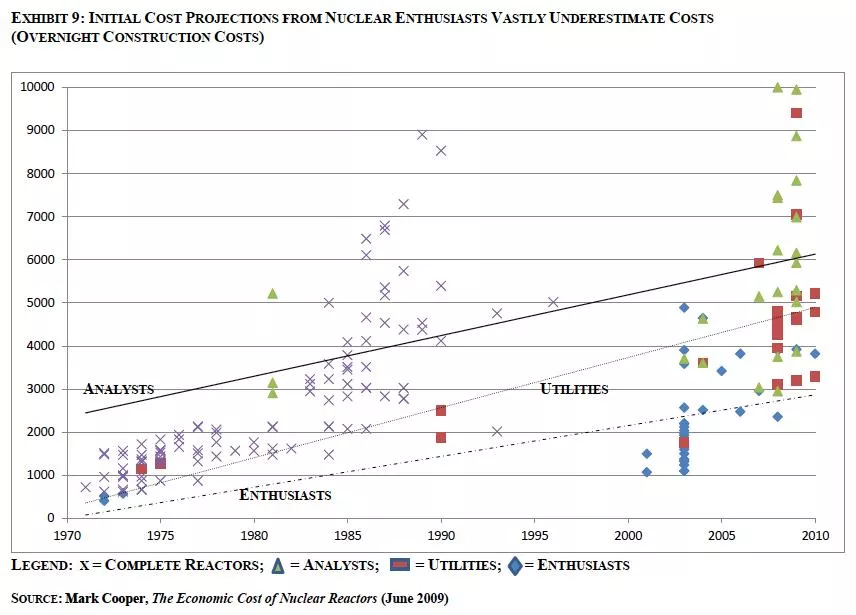 ---
Updated at 12:23pm Dave Knox, spokesperson for NRG (which is working with Toshiba, STP Operating Company, and, now, Shaw Construction, on the proposed STP Units 3&4), told the Current today that NRG has promised its shareholders that it would not proceed with the project unless they got purchase agreements in place to sell 1,000 megawatts. So far, they have none. Echoing Garza, Knox said that since CPS Energy is a "well-respected utility," a commitment here would boost their chances with customers elsewhere. They are also lobbying heavily in Austin. "We're working with them. We're working with others, but I can't go into any details about who the others are."
If CPS Energy enters into a Power Purchase Agreement with NRG, city customers would be shielded from unexpected costs from potential delays or cost overruns, he said. NRG would have to make up those overruns elsewhere.
Knox added that the company expects to build both plants for $10 billion, bringing the two units online in 2016 and 2017. The $18 billion figure leaked more than a year ago was a preliminary figure. "There were a lot of numbers thrown around when that first broke," Knox said. "Toshiba had basically a preliminary price, and basically this is where we were at the time."