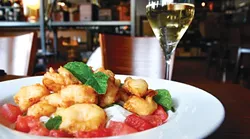 Release Date:
2010-03-17
For a long time, not counting occasional Indian-restaurant forays, I felt the only Asian food in town of real interest was Thai — despite the fact that many Thai restaurants felt the need to hedge their bets with Chinese menu items for the faint of fork. I was tired of SA sushi, the rise of Chinese buffets only cemented my contention that there was little of that country's cuisine worth mention in town, Vietnamese, I felt, lacked the verve of Thai.
But, spurred in part by the appearance (and occasional disappearance) of uncompromising Korean kitchens, I've been coming back around. I've lifted my sushi boycott. And the proliferation of Vietnamese pho parlors has only completed the process. Pho Ha Long is typical of its kind: an unpretentious place to slurp noodle soups full of sometimes odd-sounding ingredients. No kung pao need apply, no dynamite rolls necessary.
There is a fried egg roll on the appetizer menu, but crackling crisp and filled with vermicelli and ground pork, it's nothing like the cardboard creation that sometimes comes with lunch specials. We asked for lettuce and some sweet basil to make an even more appealing package for dipping. All the other rolls are wrapped but not fried, and the variation with grilled pork slices has a smoky component that pairs nicely with a peanut sauce that's refreshingly both more and less than diluted chunky Skippy.
THE SKINNY
Inexpensive and outstanding authentic
Vietnamese cuisine. Only marginally
handicapped accesible
DON'T MISS
The pho hai chin, and the bun tom
thit nuong
HOURS
9:30am-9:30pm Wed-Mon
PRICES
Entrees: $5-$7.99
From here on the choices are much more complicated — but that's where we come in. And our waiter, Tim. In fact, you could probably ignore all of the following and just ask Tim. But on the off chance that he might not be there, here's what we had — and what we liked.
We ordered two pho (pronounced, as you probably know, phuh), the number 2 with eye round steak and well-done brisket (even Tim didn't know why the copy always reads "well-done," as many recipes actually use thinly sliced raw beef that cooks when it's added to the hot broth), and number 44 with seafood. The basic, fragrant broth, less aggressively flavored with star anise and clove than some, appeared to be the same, or very similar, for both bowls. Rice noodles are the universal constant. Bean sprouts, cilantro, sliced jalapeños, lime wedges … whatever comes on the heaping platter of accessories is appropriate to any soup, and you should add as much as you can put into the bowl. Up to you how much potent chili sauce you add. One diner preferred to squirt the fiery Sriracha onto a plate for dipping chop-sticked morsels; I prefer to add it to the broth.
Favorites? There's more to discover in the seafood pho hai chin with its shell-on shrimp, pieces of chewy squid and krab, and slices of seafood sausage, but it's really a toss-up. Other options include combinations and permutations of meatballs, tripe, tendon, and even chicken. Tim recommends a tofu version for vegetarians, and the diner who had had it previously pronounced it fine pho indeed.
It's not all slurping and dipping at Pho Ha Long; there are some drier options, including a bun tom thit nuong (number 25) with many of the same ingredients that can be had in soup: thin rice noodles topped with grilled pork, marinated shrimp and chopped lettuce. Think of it as a Vietnamese sopa seca — then add hot sauce, squeeze on lime … whatever suits your fancy. The shrimp didn't seem overtly marinated, but the pork was tender and smoky, helping hoist this dish to a solid bronze in the lineup.
I also ordered one dish to take home for later examination, and it didn't travel as well as I had hoped. The mi xao mem, a stir-fried egg noodle with seafood (yes, pretty much the same cast of characters as the soup) would have been much better straight out of the kitchen; even reheating it in a bamboo steamer didn't do the chef justice. But for a dish without bones, it nevertheless had good ones. I added lots of hot sauce, however.
There are non-noodle dishes at Pho Ha Long, including the most expensive on the menu ($7.99) that pairs a brace of fried quail with what sounds like very plain rice. There are also numerous variations on the theme of bubble tea. But, what the pho, you really came for the soup. If you get to the point where you can truly say the eye round steak with fat brisket and soft tendon is better than, say, the well-done flank with soft tendon and bible tripe, you will have slurped your way through dozens of bowls and be much the better person for it. The pawn shop that's next door won't be necessary, either: $5 will get you a small bowl of most everything. The large is only fifty cents more. •