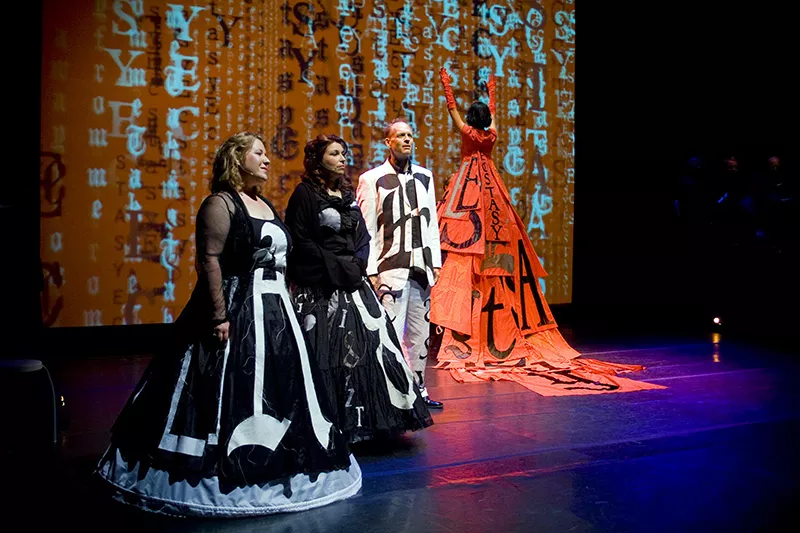 Courtesy
A scene from Dill's 2008 performance Divide Light.
New York-based painter, printmaker, sculptor, needlepointist, photographer and performance artist Lesley Dill is getting quite cozy with our fair city.
"Lesley Dill: Performance as Art," a kind of retrospective and overview, has been on view at the McNay since June 10. The exhibit, which focuses especially on Dill's contributions to performance art, gives us a close look at more than 20 years of output, in almost every medium you can imagine, including drawings, costumes, and clips from her full-blown opera Divide Light, based on the complete works of Emily Dickinson, which premiered in 2008.
Using the provocative force of the written, spoken and sung word in striking and original ways, Dill's work deals with contemplation, abandon, ecstasy, transcendence, forgiveness and archetypal struggles towards completeness. As she told the San Antonio Current over the phone, she's "interested in transcendence, luminosity and danger."
The exhibit runs through September 6.
On Thursday, Dill is coming in for a one-off performance of a new multi-faceted piece, Drunk with the Starry Void, which she created in collaboration with singer-songwriter Pamela Ordoñez and animator Laura Oxendine.
The work, which Dill sees as exploring "catastrophe, cataclysm and crisis," grew out of an earlier Dill exhibit, "Faith and the Devil." She explained that in the process of gathering text for that large-scale installation — using intense poetic material from John Milton, Dante, Pablo Neruda, Tom Sleigh, Emily Dickinson and others — she ended up with a lot of spare materials and ideas.
If "Faith and the Devil" tells the story of "evil moving into glory," as Dill put it, then Drunk with the Starry Void zooms out and tells a larger story, which also includes forgiveness, redemption and ecstasy.
Through eight songs, composed by Dill and Ordoñez, and massive projections of Dill's drawings, animated by Oxendine, Drunk with the Starry Void carries us through "meditations on thoughtfulness, lust, heaven, hell, torture and bliss."
The piece, taken as a whole, is simply teeming with heady questions and giddy answers to the oldest questions. As rich with sumptuous sound and lyrics as it is with bold written text and evocative animated drawings, the piece offers myriad pathways down which the viewer can wander, searching for divine sparks and deeper decency.
It's a one-of-a-kind performance, as rich with thought and as enrapturing as the human experience that it plumbs.
Drunk with the Starry Void
Free, 6:30pm Thu, July 9, McNay Art Museum, 6000 N. New Braunfels Ave., (210) 824-5368, mcnayart.org