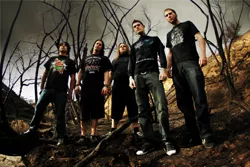 Critic's Pick
Release Date:
2008-09-17
Apparently there's a brand of death metal so vicious, so hate-filled, it can only come from a sun-soaked seaside paradise. Consider for a moment San Diego's Carnifex, a damn heavy band (I'm tempted to write one of the heaviest going, but that only invites a pissing contest and an inbox influx of unsettling emails from fans of Scandinavian baby-eating metal or some other such sub-genre). Suffice to say their name is Latin for "executioner," and their latest release (this year's The Diseased and the Poisoned) features songs titled "Aortic Dissection" and "Innocence Died Screaming" and what appears to be a pretty girl's rotting corpse as cover art. In other words, they specialize in that eardrum-ravaging, music-as-poorly-disguised-cry-for-help metal that's all the rage with you crazy San Antonio kids these days, and they're better at it than most. So good, in fact, they could almost, almost be locals.
Drummer Shawn Cameron pounds a rhythm so quick and relentless you'd swear he's trying to do you physical harm, while the equally scary voices in frontman Scott Lewis's head battle for mic supremacy, and the savage biting guitar riffs dismember the bodies. They're touring with the likeminded headliners Obituary, a band hailing from the pleasant-seeming Tampa suberb of Gibsonton. What exactly has these fellows all riled up, the fresh salty air or the buxom Baywatch blondes?
Speaking of blondes, Swedish death-metal vikings Unleashed are also scheduled to "perform" (here meaning "hopefully not ransacking and pillaging downtown San Antonio"). True, Sweden's known more for meatballs and Ace of Base than beautiful beaches, but you'd think that lovely Swedish Bikini Team could keep these guys smiling. (Note: My knowledge of Sweden is based almost exclusively on the last five minutes of Dumb and Dumber.) $25, all ages, 7 p.m. Friday, Sep 19, Scout Bar, 19314 US Hwy 281 N. Suite 1, (210) 494-7700. scoutbarsa.com.
— Jeremy Martin