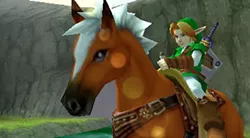 My younger brother, now 16, was not a shade past three when the Ocarina of Time first debuted. In an era where characters looked like dozens of polygons with unblinking eyes and environments were stagnant and unflinching, the Ocarina of Time blew everyone's expectations away. The kingdom of Hyrule had finally come to life that reverberated with personality and consequence. No longer would we have to suffice with a small, green pixelated munchkin running through dungeons defeating monsters 20 times his size — Link finally looked like Link. Packed with dungeons and dozens of side quests (and who can forget the time-old tradition of "heart piece hunting"?). The Ocarina of Time still stands as a symbol of the perfect marriage of creative storytelling and technological marvel. But could this still hold true 13 years later? Those who fell in love with Ocarina are older, more seasoned gamers, and the new generation of gaming teens are of a more demanding breed. As my brother booted up my 3DS and watched the iconic introduction, I was both scared and excited to see how (or if) he'd enjoy the classic story.
Three days later he started his second run-through, or what most Zelda fans refer to as "the perfect" run.
Remaking an old game is never an easy process, what with the countless opinions of the fans debating every single detail down to the damn coding. But somehow, despite the extremely fine line they had to tread between improvement and sacrilege, Nintendo and Grezzo studios have accomplished a remake that is both incredibly faithful as it is the refresher Ocarina was looking for. For the hardcore fans, you can all rest easy: The monsters are the same, Navi is still annoying as hell, and the story has been left completely untouched. The greatest changes made lie in the HUD and item management system, which are a welcome breath of fresh air. With the addition of a touch screen, switching between weapons is now truly "on the fly" as you now have five separate items queued up as opposed to the original three.  Moreover, the extra screen also allows the map to be constantly present, significantly cutting down on the amount of pausing one used to be subject to. These mechanics quicken the pace of the original game since you don't have to stop and rearrange your inventory or check your location as often. As a result, there is a much finer sense of flow that was nearly impossible to feel before.
The foremost change (and biggest marketing pull) is definitely the graphics, which I am elated to say are nothing short of fantastic. Polygons are replaced with natural curves and contours that bring each character to an eye-popping level of reality. In a sense, this is the way Link and Zelda were always supposed to look. Coupled with the tasteful amount of 3D, the graphical update is really something to behold when you recall this is all being done on a portable system. Speaking of portable, one of the biggest changes comes in the addition of the gyroscopic qualities of the system itself. Rather than rely solely on an analog nub to look or aim, the player can now physically move the system around to do the same. It's a tad awkward at first, especially when you realize how finicky the 3D effect is. It makes me wonder if the developers experienced this obstacle and found no solution to it, since everyone will invariably attempt to move the system around without moving their heads (thus displacing the 3D effect). It's jarring at first, but you quickly come to terms with the annoyance and either live with it, or simply move your head in relation to the system as well. This may seem like a detriment to the game, but I can assure you it's quite the contrary as aiming Link's bow or hookshot becomes a great deal easier and more fluid. (Once I got used to it, I don't see how I ever lived with analog aiming before now.)
But mechanics aside, the core of Ocarina remains untouched and untarnished after all these years. To assist some of the younger fans who may have not played the game before (it's odd to think that, but let's face it: the number will grow every year), the developers have included a brand new hint system to point you in the right direction. While being completely optional in use, it allows the player a hint of what to do next if they happen to find themselves stuck in a dungeon. I found myself using it more often toward the latter half of the game as I realized most of my memory of skulltula tokens and heart pieces wasn't all it used to be.
So how do we sum up a game like this, one whose acclaim is rooted in the hearts of those who enjoyed it 13 years ago, yet still garners fresh appeal to anyone new to the Zelda franchise? For those of you who played Ocarina of Time before, this is the perfect time to return to Hyrule and relive one of the greatest games ever made. For those of you in which Twilight Princess was your first Zelda experience, this is the perfect time to see from where it drew most of its inspiration and success. And finally, for those of you who don't even know who Zelda is, this is the perfect time to find out.
See you in the next level,
Gray
P.S. For those of you who might find this interesting, the upcoming Zelda game, Legend of Zelda: Skyward Sword, is being dubbed a prequel to the story that takes place in Ocarina of Time. So if cool interconnecting plot points are your thing, this is just another incentive to play through it.
P.P.S. For anyone who might find a more philosophical blog post on this game, take a jump on over to my personal blog, where I talk less about the mechanics and more about the evolution of gaming and how it's affecting the Zelda franchise.