Occupy San Antonio made its first splash today, hoping to latch onto the broad national movement sparked by the ambitious weeks-long protest growing out of New York City. A group of activists, fluctuating from 20 to over 200 deep, rallied throughout the day at Travis Park, with periodic marches to the Alamo, the Grand Hyatt downtown, CPS Energy, and City Hall.
Unlike New York, where Occupy protesters have been chased, pepper sprayed, beaten, and arrested, it was smooth sailing for local activists Thursday. District 1 Councilman Diego Bernal stopped by Travis Park to meet with protesters, giving his blessing*, organizers said. Gentle assurances from the city led organizers to squat at HemisFair Park for the night, where authorities said protesters could crash without fear of hassle or arrest (though no tents would be permitted, as per city ordinance). Late Thursday afternoon, organizers got a call from Bernal's office, telling them the HemisFair restrooms would stay open all night for the 30 or so activists who planned on staying.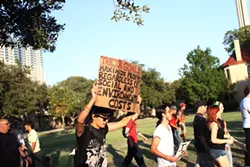 For now it's unclear where the movement's headed, or if Occupy San Antonio will take on its own local message (or how long organizers will stay in the city's good graces). Settling in at HemisFair Thursday evening, Chuck Robinson, an organizer with the group, said #OccupySanAnto's still in the beginning stages, and that organizers are actively mulling over where to go from here. "People say there's no central message. Well, there's a lot to be angry about. ... The list of abuses cataloged here is decades in the making." See the video below to hear more of Robinson's thoughts on the movement.
***Diego Bernal, when reached later Thursday night, clarified that he didn't "necessarily support the movement," but that he wanted to make sure police and protesters didn't clash. "The last thing I wanted was a situation or some sort of confrontation between them and the police department. ... I'm proud of the way everything went down," he said.