In the interest of honesty and total transparency, we feel the need to clear the air: we can't wait for Halloween. It's candy, late night adventures and dressing up -- what's not to like?  And if you're like us, you've been talking about it for, oh, months. The perfect Halloween costume takes time -- sometimes a lot of time -- and demands thoughtful consideration and construction.  In short, Halloween is serious business! We want to help you not only save time, but show up to your parties looking geeky-chic, so we've compiled a Halloween-approved cheat sheet of famous and infamous Internet personalities for your costuming pleasures.
WARNING:
If you're offended or confused by any of these Halloween costume ideas,  we'd like your feedback.  Don't hesitate to leave a comment below so we can call you out on being completely unable to LOL.
Our first costume sugestion is a perfect example of what the Internet can do for regular, old TV.  Do you watch The Amazing Race?  Neither do we.  But the Watermelon Girl video?  Viral.  If you haven't seen the sad but true clip, prepare yourself.  All you need: a real/fake watermelon hat and a
few makeup bruises
(slingshot optional!).
If you're a fan of the pink, consider a
Red v.s Blue
gamer-inspired look. This idea works great as a duet -- especially with that third-wheel buddy of yours who doesn't have a Halloween date because of playing too much 
Halo
to begin with.
What what, in the butt?  Don't let your homophobia keep you from dressing up like
Samwell
.  Visit the local vintage clothing shop for a red button up shirt, black trousers and pull out that dusty
bedazzler
. For added effect: give away chocolates all night to gawkers and fans.
If you're anything like us, we spent MONTHS absorbed by the hypnotic eyes of the O RLY Owl.  A costume like this takes some preparation, but affords the opportunity to expand the costume into a group effort with YA RLY and NO WEI.  For funzies: pass out cards to your friends with other memes and abbreviations to improve their acronym vocab.
Are these ideas a little too cutie patootie?  Go as the disturbing and infamous Puppy-Throwing Girl from Bosnia.  What you need to get this "sick" look: grab a long, stringy blonde wig, a red hoodie, and bucket of plush/fake puppies.  You're on your own for the video.  We're snarky, but we're not monsters.
If you're one of those couples that loves doing everything together, try going for broke this year as a
bottle of cola and a tube of Mentos
.  It's fun.  It's clever.  It's scientific.  Sorta.  We don't recommend setting up a real fizzy eruption of stickiness without a bit of planning -- it makes quite a mess!
Where would be this year without a festively Halloweeny get-up inspired by the over-hyped world of social networking?  This costume suits both the over-sharing, shameless self-promoter and the "social networking will bring about the end" media conspiracy theorist.  Grab a couple sheets of printer paper, a glue stick, and some poster board you'll be ready post your "status update" in real-time.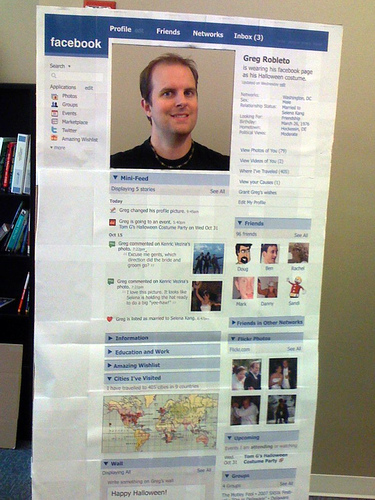 We have not forgotten about the little ones in your family!  Friends will think you're cool when you show up with your kids (who might hate you later) dressed up as
Charlie the Unicorn
(with or without kidneys) and his wacky frenemies.  Added bonus: you get to run around with the munchkins quoting the original video's excitement over "candy mountain" from house to house.
Yes, we know a dog is not a child, but if you're short on kids, this costume would work well for the canine in your family as well.
Our last two ideas are for animals as well.  Don't think these LOL Cats are cute, or the "there's an app for that" pup is clever?  You're dead inside.
Have fun this year!  Don't forget: you're never too old to LOL.
Happy Haunting,
@deannecuellar and @beccacolada