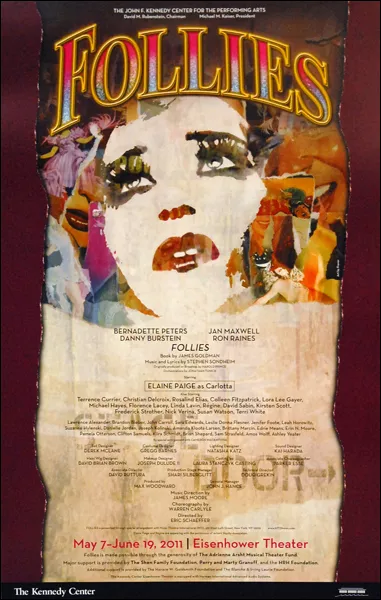 So I thought I had my theater-going schedule worked out perfectly: first, I would catch the opening weekend of the Cellar's Corpus Christi—with attendant protests, charges of artistic and moral bankruptcy, soaring tickets sales, etc, etc.—to be followed by a weekend in DC, where I (and 1500 show queens) would catch the final weekend of Sondheim's star-studded Follies at the Kennedy Center. I figured this would be accomplishment to boast of in perpetuity, particularly to the sorry New Yorkers who couldn't manage to catch a train (or a ticket) to see the musical.
But then the Cellar cancelled opening weekend (the third scheduling change just this year) while the Kennedy Center announced that Follies would transfer to Broadway in August. I was thus deprived of cherished bragging rights, and plunged immediately into a deep, and I think you'll agree, well-merited depression.
A week has passed. I have recovered. And so  'tis time to cast off my moping, melancholy madness and get to the work at hand: an evaluation of Follies. Now it's one of the quirks of the reviewing biz that one can see a zillion productions of one play—I'm already up to my third August: Osage County—while never catching a single production of standard works of the repertoire. (For me, it's A Winter's Tale. Never seen it. I've seen Chicago like seven times, however, including this past weekend at the Porthouse Theater in Cleveland.) And so it is with Follies: I've seen pretty much everything by Sondheim—including four or five productions of Assassins—but I was a Follies virgin. And as the curtain came down on the first act of the Kennedy Center's lavish, loving production, I had exactly one thought:
There's something amiss with the book.
Now the Kennedy Center is apparently using the revised version first produced by Encores! in New York, and bloggers have indicated that there are several versions of Goldman's script floating between London and Manhattan. But I've the feeling that the current version leaves too much on the cutting room floor. Though the plot revolves around two couples reuniting at the dilapidated theater that once held the Follies, the production is chockablock with superfluous characters who get one big song—"Broadway Baby," or "I'm Still Here"—and then disappear into the woodwork. (Not hard to do on Derek McLane's evocatively rotting set.) So the central figures—Phyllis, Sally, Ben, and Buddy—come off as somewhat thin, even with pros like Bernadette Peters and Jan Maxwell on board. Things perk up in the second act—with the surreal "Loveland" sequence, a valentine to the vaudeville of yesteryear—but it's still a curious piece: a little tragic, and a little slow. I think the decision to move it to NYC in high tourist season is risky—perhaps to the point of folly.
Elsewhere in DC was Pinter's Old Times at the Shakespeare Theater (capsule review: wonderfully acted, intriguingly designed, and, as I find most Pinter plays, cool and emotionally un-engaging). Greater happiness was discovered at David Ives' delightful Venus in Fur as the Studio. Turns out that Venus in Fur is a contemporary adaptation of Sacher-Masoch's 19th century novella—the one that popularized, to great fanfare and scandal, the concept of S&M. As envisioned by Ives, this unbelievably meta-theatrical two-hander features an author-director who has adapted S-M's novel for the stage; he auditions an actress for the lead role of dominatrix Wanda while he himself takes on the role of narrator and, um, love-slave. It's thus a two-hander in name only; it's more like a four-hander, or, to the extent to which the whole thing is a metaphor for David Ives and his own artistic process, a 4.5 hander. However many fingers you might need, it's certainly an entertaining play, with 85 minutes of head-spinning bliss and five minutes of disappointing conclusion. This is definitely a piece to be considered by either the AtticRep or—if they want to go out on a limb—the Classic Theatre.
-Thomas "I'm Afraid to Make an S&M Joke" Jenkins, Current Theatre Critic
edit: Set designer corrected.