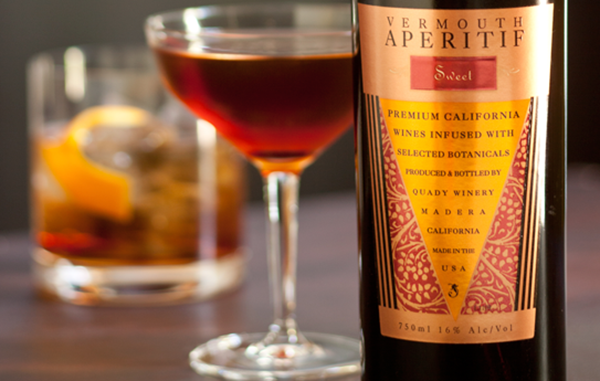 Courtesy
Quady's Vya Vermouth
There must be dozens of perfectly good vermouths on the market — and that tally now includes several small-batch products such as Quady's Vya. So why make your own? Hopefully, I'll figure it out by the end of the article.
Assuming you don't need a profound reason, there's also a perfectly good recipe in the November 2014 issue of Saveur. It comes from New York bar Amor y Amargo and is part of an article called "Vermouth on the Rise." It's not complicated but does require that you source gentian root and mugwort (no, it is not a Harry Potter potion; I found mine at mountainroseherbs.com). The recommended booze base is Laird's Applejack, and I would stick with that. Considering all the herbs and spices in the equation (green cardamom, coriander, chamomile — most available in bulk at Central Market), your choice of the white wine component isn't cosmically critical. I used an inexpensive Spanish verdejo because I had it.
I do have one quarrel with the recipe: It tells you to tie the dry ingredients in cheesecloth before putting them in a four-quart saucepan to be simmered with one cup of the applejack. Use a smaller pan, as you're supposed to then store the cooled potion, in said pan, in the usual "cool, dark place" for two days, and the packet will have more impact on the liquid if it's fully immersed. At least that's my opinion, and I'm sticking to it. That same place is put to use for five more days after you discard the herbs and add the wine — this time in a Mason jar.
Then your alarmingly specimen-looking liquid will be ready to use. The nose of my concoction was convincingly vermouth-like; the taste seemed less nuanced than, say, the Dolin I usually use, but the home brew worked very well in a 4-to-1 martini with Plymouth gin. The vermouth, however, wasn't my first adventure in DIY cocktail ingredients; that honor, if honor it is, can be awarded to ginger beer.
I'm going to go on the record here and say the experiment wasn't worth it — especially not considering all the ginger grating and subsequent waiting. Stick with Fever Tree or Fentimans. I'm willing to rank my stab at tonic syrup as semi-successful, with the warning that powdered cinchona bark, a critical ingredient, requires a lot of filtering (I used the "cut" version), that you will also have to source citric acid powder and angelica root, and that citrus zests must not include the pith or the result will be too bitter — trust me. (The mixture also looked much like diluted tea, but that did make the finished gin and tonic appear more "artisanal.") I have done a successful gomme syrup, useful for adding sweetness and texture to some classic cocktails; it requires finding gum Arabic online.
And, yes, I did them all out of simple curiosity — and, of course, because I could then write about the experience. A frequent excuse.