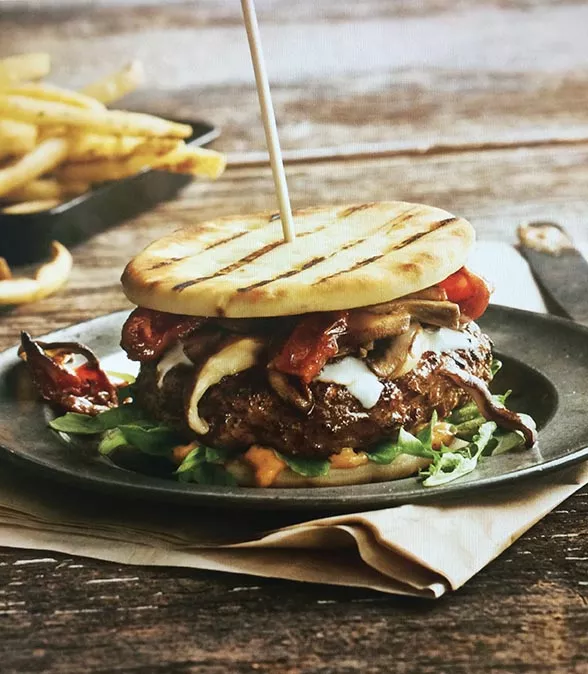 Courtesy
Brick House has your goat
One Lucky Duck Texas (303 Pearl Pkwy, (210) 223-3825) is picking up speed in trying to afford San Antonians more healthy options with Pure Food and Wine dinners (in homage of the brand's fine dining NYC restaurant) on Fridays and Saturday nights through November 22. Seatings will be available for 6 and 8 p.m. on these nights, but space is limited. Dinners start at $42 plus tax and gratuity, and can be reserved by emailing texas@oneluckyduck.com. The smoothie and juice bar has also partnered up with JoyRide Cycling Studio inside the Mosaic on Broadway to offer "Cycle Lunch." Riders will have the chance to pop in for a 50-minute class, order lunch via One Lucky Duck while checking in and have said meal delivered during class so you can really power through the rest of the day. Visit joyridetexas.com for more details and class prices.
There's a new tiki bar on the way to Southtown. Chef Rudolfo Martinez (of Tapa Tapa Truck) and bartender Roy Guerrero (currently with the Esquire Tavern) are teaming up to open Concrete Jungle at 1628 South Presa. The bar will feature Caribbean-inspired tiki and mezcal drinks inside a 1,100-square-foot space. Concrete Jungle should open in early 2015 with classic tiki drinks, boozy punchbowls and a food menu.
Cocina Heritage Restaurant will pop-up in Southtown this Friday, November 7 for a five-course dinner. The ticketed event will take place at 330 Mission from 6 to 10 p.m. and will feature hors d'oeuvres, an organic green salad, a tamal Veracruzano with red sauce, cochinita pibil, Kinsman rakia-infused tres leches cake and bottomless drinks. Tickets ($50) are available through eventbrite.com.
Finally, there's a new goat burger in town by way of Houston-based Brick House Tavern + Tap (1011 N 1604 E, (210) 402-3107), which is also adding Mahi sandwiches, black rum BBQ salmon, bison burgers with a jalapeño cilantro mayo, candied slab bacon, cheddar and fixins on a brioche bun, and a Southern Bird, four pieces of bone-in fried chicken marinated in buttermilk and Frank's hot sauce. The goat burger, with sautéed wild mushrooms, oven-roasted tomatoes and a goat cheese cream sauce is currently only available on Thursdays.