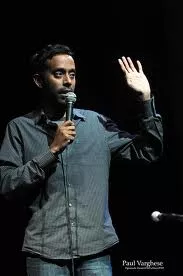 Paul Varghese is a comedian who just happens to be of Indian heritage. The kind white people don't have to feel 'guilty' about. That is unless you are descended from British Imperialists. (Oh wait — that's right – you
SHOULD
be ashamed of yourselves! Now go read George Orwell's 'Burmese Days' and think about what you've done.) When you see Paul perform don't expect a lot of curry jokes, outsourced references, or premises involving how "Indians be all like 'this,' while white people be all like 'erasing centuries of culture.'" Instead, expect a wide array of topics and ideas that are as relatable as well as funny enough to have put Paul on Showtime, Comedy Central, HBO, and Montreal's Just For Laughs in just 9 years of performing.
If you could describe your life as an 80's montage, which one would you be?
Karate Kid.
Going Ralph Macchio?
Yeah, everyone says Rocky, but I see myself alone on a beach, or a stoop. That's where my career is going – alone on a stoop with a Japanese guy being my only friend because I don't know how to make any.
Rocky was made in the 70's. You mean Rocky 3?
Yeah, that's the first one I saw.
That's the only one that matters.
Really? The first one was excellent!
I'll take Clubber Lane over Lando any day.
You mean Apollo Creed.
What's the difference?
Paul Varghese will be performing at the Rivercenter Comedy Club this weekend. Show times are 8:30 and 10:45 Friday/Saturday, 8:30 Sunday. Rivercenter Comedy Club, 849 East Commerce Street. (210) 229-1420. $15