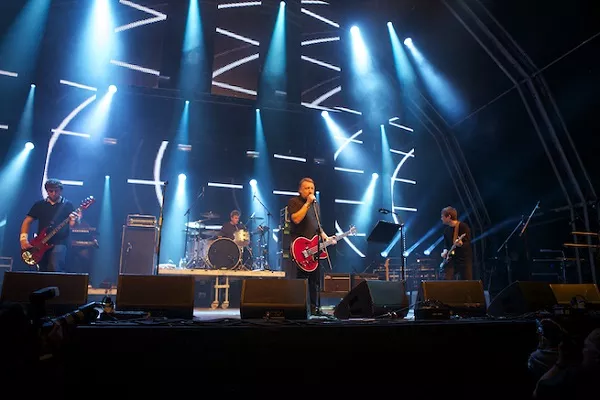 Courtesy
Peter Hook and The Light in action.
Peter Hook is not exactly a household name, but the bands to which he has contributed his multi-instrumental gifts (chiefly on bass and synth), his vocals, and his songwriting talent certainly are. At least if your household is hip to the good shit that came out of the 1980s. As a founding member of
Joy Division
and
New Order
, Hook belongs among the ranks of rock royalty.
After Joy Division lead man Ian Curtis' 1980 suicide—just months before the group's magnum opus
Closer
came out—Hook and the rest of the band members formed New Order, having previously agreed not to continue Joy Division, as such, in the absence of any of the original members. New Order, at least for the rest of the 1980s, proceeded to set the bar for post-punk music and all the different directions it could go.
After a few decades of on and off involvement with New Order, Hook formed Peter Hook and The Light in 2010 with the specific intention to play both Joy Division and New Order songs. Having met with success, Hook and company have taken to dedicating particular tours to presenting individual albums from the New Order and Joy Division catalogs. But, the
Substance
tour, which brings them to Paper Tiger on Monday, is arguably (especially for the casual fan) the best one yet.
On this tour, Hook and his band will present an album by New Order and an album by Joy Division, both of which are named
Substance
. These two albums—which are both singles collections, released in 1987 and 1988 respectively—represent the most popular music from these two seminal bands. In other words, show up at Paper Tiger Monday to see the best of Joy Division and New Order, performed by an important founding member of both. This is a great opportunity to get more cozy with the music of these two landmark acts. We're talking all killer and no filler. For longtime devotees, don't necessarily expect any deep cuts... But we know you'll be there anyway.
Peter Hook and The Light
$22, Mon, Sept 26, 7:00pm, Paper Tiger, 2410 N St Mary's St, papertigersa.com.