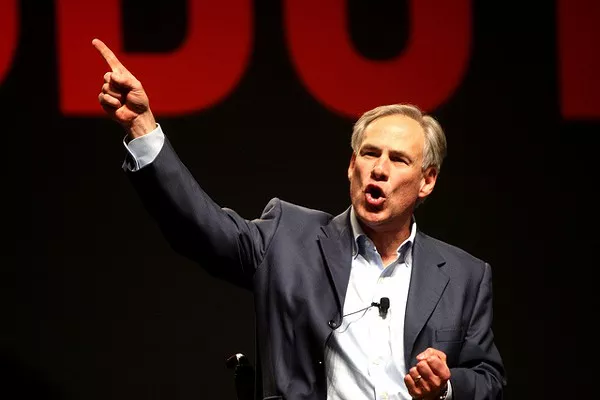 Via Flickr user Gage Skidmore
Governor Greg Abbott shows off his Twitter finger.
Who hasn't done it once or twice? Accidentally shared something on social media that's total bullshit.
The difference, though, is we're not the governor of Texas.
Early this morning, Gov. Greg Abbott tweeted a meme showing Winston Churchill's dour mug and reading, "CHURCHILL ON THE LEFTWING: The fascists of the future will call themselves anti-fascists."
"Some insights are timeless," the Gov chimed in, attempting to get off a zinger on those pesky liberals.
Nothing unusual there, as Abbott's fond of using Twitter for tweaking progressives (when he isn't sharing Bible verses or showing pictures of himself shootin' guns).
But that thur quote isn't Churchill's, Gov. Greg — and it doesn't even sound much like something the late prime minister would have said. Website the Blaze
attributes something loosely similar
to Huey Long, the populist Louisiana senator, who probably said it during the '30s.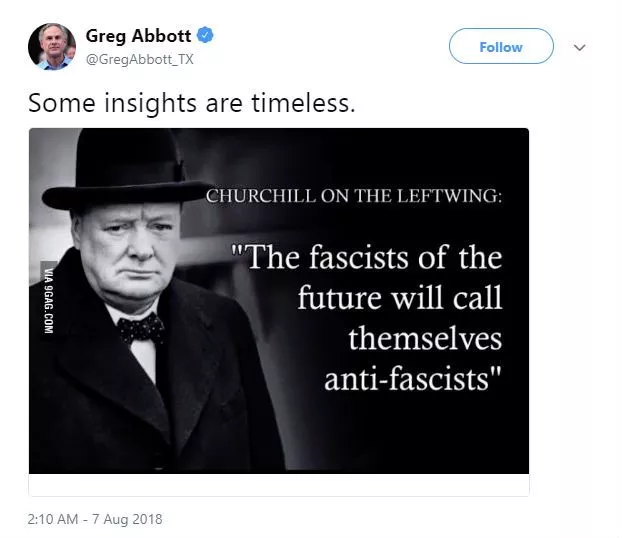 As of early afternoon, the meme had been struck from Abbott's twitter feed, but that didn't stop a few fellow tweeters from rubbing the Gov's nose in it. Or the website
ThinkProgress from sharing it
with the world.
Most of us would probably be a little skeptical of any meme creator who thinks it's proper grammar to smash the "left wing" into a single word. But, hey, why let that get in the way of calling your political opponents fascists?
Stay on top of San Antonio news and views. Sign up for our Weekly Headlines Newsletter.