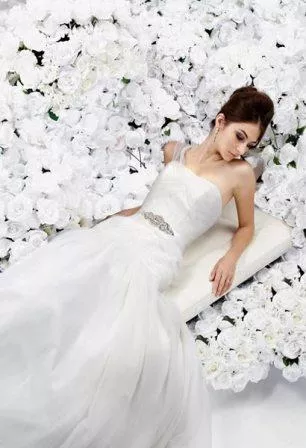 I just learned that national charitable organization Brides Across America's annual "Operation Wedding Gown" will be hosted by San Antonio's newest bridal boutique, Impression Bridal, this Tuesday, January 10. To qualify for a free wedding gown, brides or their fiancés must be on active duty in the military, either currently deployed or deployed within the last five years to Iraq, Afghanistan, Bahrain, Libya, or Japan.
"I think it's kind of neat that we actually have armed forces next door and this is a fabulous opportunity for San Antonio," says Barbara Churchill, of Impression Bridal. "Our city is a well-known military town, so what a fitting thing for us to be doing." Hopefully military brides will find the gown of their dreams that "fits" perfectly, especially considering Brides Across America's generous donations: gowns are valued between $500 and $4,000 and range in size and style. Celebrities like Mariah Carey, Faith Hill, Selena Gomez, and Ashley Greene have all worn Impression Bridal dresses on the red and white carpet, and now military brides will have the opportunity to wear one on their own special day.
According to Margaux Gonzalez, bridal stylist at Impression Bridal, "I think it may be challenging to plan my dream wedding if my fiancé or I was deployed, and the Operation Wedding Gown event definitely seems to add the fun, dreaminess quality back into the wedding planning process." For more information about qualifying and location dates, log on to Brides Across America. See you at Impression Bridal on Tuesday!