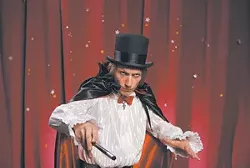 Critic's Pick
Oscar Nominated Shorts
Release Date:
2010-02-24
Rated:
NONE
Genre:
Film
Four of the five live-action shorts nominated for an Oscar this year explore the darker side of human emotions. The one that doesn't, Swedish entry "Instead of Abracadabra" by Patrik Eklund and Mathias Fjellstrom, does indulge in some gallows humor. The 25-year-old Thomas still lives with his parents and aspires to become a magician. He pesters his father to let him perform at his 50th birthday festivities in order to impress the attractive young woman next door.
Less effective is Denmark's "The New Tenants" by Joachim Back and Tivi Magnusson. In it, a gay couple — a chain-smoking, jabbering misanthrope and his put-upon mate — moves into a flat with a dark past. Its absurdities pile up like the corpses in the living room, but the filmmakers do nothing with it.
More moving is writer/director Gregg Helvey's "Kavi" from India, which follows a young boy who is enslaved, along with his parents, to a kiln owner: They make mud bricks every day, working off the father's 10,000-rupee debt, even as aid workers try to liberate them.
Even more unsettling is Luke Doolan and Drew Bailey's "Miracle Fish" from Australia, in which a young boy gets dropped off at school on his birthday, gets teased that he got crap gifts because his mom's poor, and then takes a surreptitious nap in the nurse's office just to get away. When he wakes up he finds his school curiously absent of people, a water tap left on, and a pervading sense of taut anxiety.
But the most soul-crushing is "The Door," by Juanita Wilson and James Flynn from Ireland, which opens with a man breaking into an abandoned city and flashes back to him, his wife, and his daughter learning that they'll have to evacuate their home. You kind of know where the short is headed with knife-in-heart shots of bald children in a hospital and the daughter sheepishly smiling at the father during an examination, but what really lowers the emotional boom here is how the title comes into play.
The animated features are expectedly a bit more upbeat. A gentilhomme realizes he can't cover his café tab in Fabrice O. Joubert's madcap "French Roast." A perhaps overzealous grandmother revamps the tale of Sleeping Beauty in Nicky Phelan and Darragh O'Connell's entertaining mix of 2-D and 3-D animation in "Granny O'Grimm's Sleeping Beauty" from Ireland. Death meets his match in the anarchic, Looney Tunes-inspired "The Lady and the Reaper (La Dama y la Muerte)" by Javier Recio Gracia from Spain.
Expect stop-motion British animator Nick Park's "A Matter of Loaf and Death" to be the Oscar favorite here, as it revisits his indelible creations, the Mancunian cheese enthusiast Wallace and his trusty dog Gromit. This time out Wallace is a baker who falls for former advertising bread girl Piella, whom the resourceful and ingenious Gromit thinks might have something to do with the string of bakery murders in town.
The standout animated work, though, is Francois Alaux and Herve de Crecy's "Logorama," from France, which imagines a Los Angeles — and, eventually, the entire universe — made entirely out of corporate logos. Daft, irreverent, and wildly entertaining, it secured a permanent place in this moviegoer's heart by depicting Ronald McDonald threatening to put a cap in Big Boy's ass. — Brett McCabe