A still from
The Fantastic Flying Books of Mr. Morris Lessmore
The shorts nominated for an Academy Award in the animation, live action, and documentary categories will be screened at the Bijou (4522 Fredericksburg) starting on Friday, February 10. As I'm writing this, the screenings begin at noon, but check your listings to make sure.
I will give you my take on some of the films I've already seen, and I've seen enough to recommend everyone to see them all.
Animation
A Morning Stroll Dir. Grant Orchard **** In 1959, a two men bump each other while walking on the sidewalk, and apologize. A chicken goes by, knocks on a door with its beak, and enters an apartment. One of the men looks on, amazed. The same scene is shown in its 2009 and 2059 versions. A funny, entertaining, inventive and visually stunning work.
The Fantastic Flying Books of Mr. Morris Lessmore
Dir. William Joyce, Brandon Oldenburg
****1/2
This is my horse. A moving, sweet homage to the rejuvenating power of books. The main character resembles Buster Keaton, and the movie even borrows from Keaton's own gags in
Steamboat Bill, Jr.
, even reproducing some of Keaton's dance steps and the unique way in which he used to fall on his head. Yet, this magic movie is a truly original work I instantly fell in love with. The following two I liked but were they were dwarfed after seeing what you just saw.
Dimanche/Sunday
Dir. Patrick Doyon
***1/2
Wild Life
Dir. Amanda Forbis, Wendy Tillby
***1/2
La Luna
is the only animation I didn't see, and I couldn't even find a trailer for it. But this interview with the director helps:
La Luna Dir. Enrico Casarosa
Live Action
The Shore
Dir. Terry George
****
I usually hate scenes in which a character gives a long speech justifying what the director couldn't show through visual storytelling. But
The Shore
is different. Gorgeously shot and acted,
The Shore
is a movie about lost and found love, friendship, and forgiveness. At times very funny, it touches a nerve without low blows and, so far, it is my favorite to win this category.
Raju
Dir. Max Zähle
***1/2
Shot in Calcutta, this drama explores the dark side of child adoption in India and opens an honest debate on moral correctness, selfishness, and whether some of our actions are "what's best for the child."
Pentecost
Dir. Peter McDonald
***1/2
An Irish altar boy in 1977 is more interested in Liverpool playing the final of the European Cup than in doing his service in church. The scene in which a priest gives the altar boys a pep talk before a special Mass alone is worth the nomination. This gem should please both lover and haters of the Catholic church, as well as soccer fans. Sorry: I meant football.
Time Freak
Dir. Andrew Bowler
***1/2
A nerd builds a time travel machine, but only keeps coming back repeatedly to his immediate past hoping to, at one point, avoid making mistakes. Never taking the wrong course in school had so many disastrous consequences.
Tuba Atlantic
Dir. Hallvar Witco
The one film I didn't see in the live action category is
Tuba Atlantic
(dir. Hallvar Witzø), about a dying 70-year-old man (Oskar, played by Edvard Hægstad, below) who is ready to forgive his estranged brother for an old disagreement. The problem is: the brother lives on the other side of the Atlantic Ocean.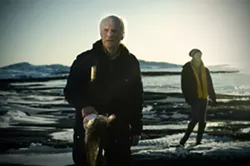 Documentaries
I still haven't seen any of the documentaries, but here's most of the trailers:
The Barber of Birmingham: Foot Soldier of the Civil Rights Movement
Dir. Gail Dolgyn, Robin Fryday
Incident in New Baghdad
Dir. James Spione
Saving Face
Dir. Daniel Junge
The Tsunami and the Cherry Blossom
Dir. Lucy Walker
I couldn't even find a still for Rebecca Cammisa's
God is the Bigger Elvis
, which deals with the life of actress Dolores Hart, who left her career and became a Benedictine nun. She had made her film debut alongside Elvis Presley in
Loving You
(1957). So all these movies open Friday at the Bijou. If you're a serious movie fan, you'll be there.
— Enrique Lopetegui