If Ellen DeGeneres taught us anything during this year's Oscars telecast is that everyone loves pizza. As Julia Roberts and Meryl Streep chowed down on some 'za and other A-listers clamored for a slice of pie (can you blame them, they've all been dieting for who knows how long?), we got to thinking about other great pizza moments in TV and cinema.
Walter White's Roof Pizza
GIFSoup
This allegedly took only one shot to film...because Bryan Cranston is a badass, natch.
Pizza in Teenage Mutant Ninja Turtles
(Courtesy) How else were four mutant turtles going to survive in the sewers of New York? Also, was it just me or did the pizza always seem extra melt-y and stringy in the most awesome of ways?
Pube Boy's pizza in She's All That
Two words: Hoover it.
1988's Mystic Pizza
(Courtesy) Has Julia Roberts thanked pizza for her big break?
Pizza Hut pizza in Wayne's World
The beast doesn't include selling out. Party on, Garth.
Pizza the Hut in Spaceballs
Presented without comment.
Several pizza orders in Home Alone
Kevin McAllister likes pizza. He ordered it once he realized his parents were gone, had it delivered in New York while lost there...and we're guessing Macaulay Culkin really digs pies, too (see
Pizza Underground
).
John Stewart's takedown of Chicago's deep dish pizza
Finally! Someone has the guts to say what we're all thinking.
Honorable mention: Beacon Street Pizza in Two Guys and a Girl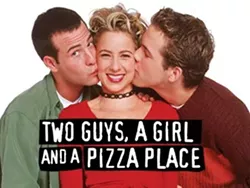 (Courtesy)
 The titular pizza was dropped from the title which was a shame because Beacon Street was the Central Perk of Two Guy and a Girl. Thanks for introducing us to Canadian dreamboat, TGGPP.