Courtesy
King Tuff
There's no easy way to build on the ashes of The White Rabbit, a music institution in SA for nearly two decades. But, throwing a free three-day festival with a stacked lineup of this caliber just might do the trick.
This weekend, the newly christened Paper Tiger will open its doors with a top-notch gathering that seems intent on establishing its bona-fides as a go-to destination for punk (Friday), psych (Saturday) and electronic music (Sunday).
Though each night features its fair share of unbelievable acts and over 30 bands in total, here are five you just cannot miss:
King Tuff | Friday | 5:15 p.m.
For a venue looking to be baptized in cheap beer and mosh sweat, King Tuff might be the high priest for the job. A purveyor of garage-glam rock, The King works and worships devoutly at the shrine of Marc Bolan, albeit one built from PBR cans, beat-to-shit Vans and pawnshop Stratocasters.
While Tuff packs the riffs and the swagger of glam rock's greatest, his sound holds the likes of Ramones, Dinosaur Jr. and Thee Oh Sees all in equal regard. It's easy to forget how many killer tracks he's amassed over his three albums, until he drops the riff of "Black Moon Spell" or climbs the nearest table, rafter or person to howl out the appropriately titled "Anthem."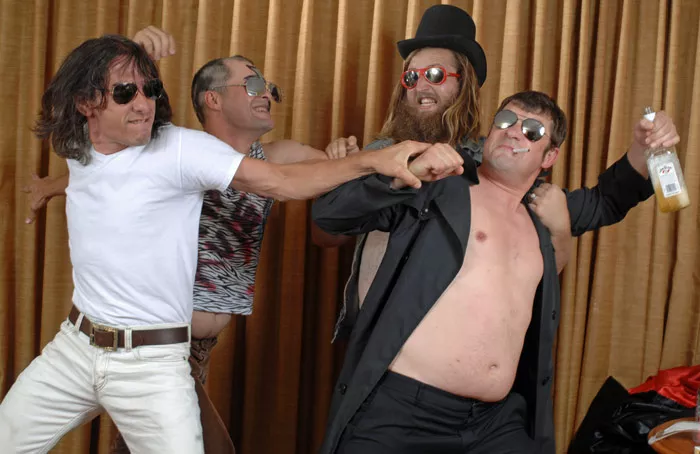 Courtesy
The Spits


The Spits | Friday | 9:15 p.m.
As Keith Marlowe of Noisey said of the Spits last year: "If you live in a place where the Spits never play, move immediately. It's clear that your city sucks." San Antonio has had the debauched distinction of hosting the Spits almost annually since the Kalamazoo quartet first hit the road 20 years back, and their place on the Paper Tiger bill feels like a punk stamp of approval.
There's a relentless efficiency to the band that seems to defy logic: cranking out record after record of slightly tweaked two-minute punk anthems and taking their van across the country to bash those tracks out. Here's hoping the Paper Tiger, or any SA venue for that matter, can stay that consistent.
Courtesy
Iceage
Iceage | Friday | 11 p.m.
When singer Elias Bender Rønnenfelt moans the opening lines "The world was once seen burning in my eyes just as it is in yours," it might as well be a message directed to him many moons ago. Just four years since the then-teenaged Danish quartet unleashed its incendiary debut New Brigade, Rønnenfelt and Iceage have drowned the tightly coiled punk of their younger selves in a whisky soaked, Pogues-styled sprawl.
Their latest, Plowing Through the Field of Love, even sounds like an all night bender, growing sloppier, darker and more interesting as it stumbles on. The band has also undergone a similar transformation playing live, particularly with the emergence of Rønnenfelt as one of punk's most captivating frontmen — preening, howling and careening across stage.
Roky Erickson | Saturday | 11 p.m.
Who would make the Mount Rushmore of Texas Music? Willie, for sure. Probably Waylon as well, right next to Townes Van Zandt. But that fourth place? That has to belong to Roky. With the opening howl of "You're Gonna Miss Me," Erikson and his 13th Floor Elevators sounded the opening shot for psychedelic rock. That strange trip, begun in 1966, has now formed an unprecedented Texas-psych rock tradition reaching through the hard acid rock of Bubble Puppy, the pyscho-babble stylings of the Butthole Surfers and most recently to Levitation (formerly Austin Psych Fest), who are curating Saturday's gig.
Erikson doesn't quite have the mind-melting energy of yore (mostly because he melted his mind a bit too much), but then when it comes to paying witness to Texas music royalty, it doesn't come much more, well, royal than this.
Mitski | Sunday | 7:15 p.m.
In a three-day lineup packed with plenty of aggression (particularly of the angsty, macho variety), Brooklyn-based singer Mitski offers something of a welcome respite. That's not to call her music soft; the 25-year-old's voice manages that same St. Vincent-esque trick of wooing you in with its delicacy before knocking you on your ass with its power. But as she displayed on 2014's Bury Me at Makeout Creek, it's lyrically where the singer really makes her mark. Her songs have a coy way of finding off-kilter and biting angles on the usual lovelorn themes ("You'd say you love me and look in my eyes, but I know through mine you were looking in yours.")
Paper Tiger Kickoff Weekend
Free, 2pm-12am Sat, March 21, 3pm-10pm Sun, March 22, Paper Tiger, 2410 N. St. Mary's, 557-4342, papertiger.queueapp.com