While we have some thoughts on chain restaurants coming to San Antonio, we figured we'd give Buddy V's a try. The dishes are sizable, perfect for sharing a family dinner (and with the Valastro family photos on the walls, it feels like family). Opened late last month, here are some things to consider in case you're up for trying the Cake Boss' restaurant.
Pace yourself
Our lunch included four courses: appetizers, salads, entrees and desserts. Even if you don't go for the works like we did, take your time to truly enjoy the flavors. Cheesy focaccia bread is served from a tray and not left on the table for a reason.
Sarah Martinez
My Wife's Eggplant Parm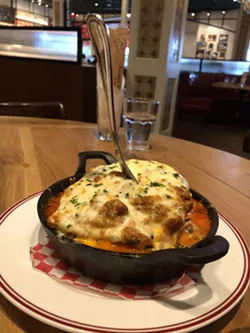 Sarah Martinez
Nonna's Lasagna Al Forno
Don't hesitate to stick to the basics
While you might talk yourself out of ordering simple dishes like spaghetti or lasagna at any regular Italian restaurant, don't do so here. We sampled the signature dishes (meals range from $11 to $46), but Nonna's Lasagna Al Forno outshined them all. The sauce wasn't meat-heavy, allowing for the herbs to shine. Really, all of the sauces (freshly made in-house) made for original flavors worth the drive out to La Cantera.
Always leave room for dessert
After all, Buddy Valastro is best known for his family's desserts. Yes, Carlo's Bakery is opening next month. Yes, Buddy himself will make an appearance for the grand opening. Until then, stop by the Italian eatery for some cannoli and lobster tails (the custard cream in the latter will hook you).
So many restaurants, so little time. Find out the latest San Antonio dining news with our Flavor Friday Newsletter.