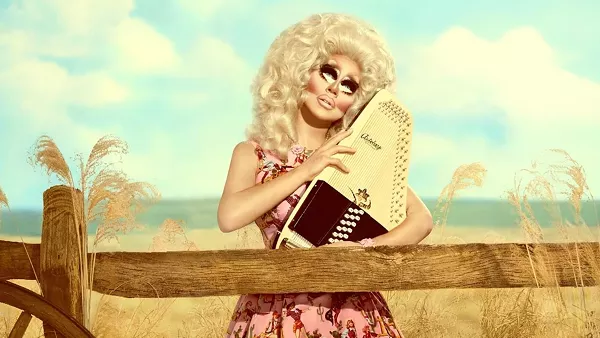 Created by Milwaukee native Brian Michael Firkus as a means of "laughing through the pain" of a childhood riddled by alcoholism and verbal abuse, the over-the-top drag persona Trixie Mattel traffics in the sort of twisted camp "Pope of Trash" John Waters must surely find amusing.
Looking simultaneously sweet and psychotic in costumes and makeup one might rightfully describe as Barbie on bath salts, Mattel first reached the masses on the seventh season of
RuPaul's Drag Race
, where her early dismissal from the reality competition series sparked the fan-fueled hashtag #Justice4Trixie. Although Mattel triumphantly returned to season seven just four episodes after sashaying away, her justice truly arrived late last summer when she snatched the crown on the third season of
RuPaul's Drag Race All Stars
.
But drag is just one aspect of Mattel's fine-tuned talents. Evidenced by her collaborations with fellow
RPDR
season seven star Katya Zamolodchikova (namely the YouTube series
UNHhhh
and Viceland's
The Trixie and Katya Show
), Mattel's got a gift for dark, dry humor that's on vivid display in her one-woman shows such as
Ages 3 and Up
. As Billboard Pride reported last month, fans mistakenly took that ironic title literally and brought young kids to a show that involves a bit about Mattel giving her father a rim job. ("But you know what, they've got to learn at some point," Mattel told the audience.)
But original music is an even more important component of her act. Playing guitar and singing since the age of 13, Mattel grew up in rural Wisconsin on Johnny Cash and Conway Twitty and dove deeper into country music during college. Miles away from the manufactured, club-geared output associated with many a Drag Race alum, Mattel's folksy debut album
Two Birds
narrates "the life of a recently heartbroken cross-dresser" (the video for "Mama Don't Make Me Put on the Dress Again" sums it up succinctly). Strategically timed to coincide with the
All Stars
finale, Mattel's sophomore effort
One Stone
dropped on March 16 to great acclaim and shot to Number One on the iTunes chart. Speaking to
Rolling Stone
— which described
One Stone
as "earnest and stellar" — Mattel confessed, "I was happy to win
All Stars
, but I got back to my room, took my wig off, turned on my phone, went to iTunes and looked at the charts ... That is the win for me."
Functioning as both a follow-up to
Ages 3 and Up
and a tour in support of
One Stone
, Mattel's new show
Now With Moving Parts
(named after the album's lead single) has been winning over fans with an unusual blend of stand-up, storytelling, original songs and covers — including a live mashup of Fleetwood Mac's "Landslide" and Avril Lavigne's "Sk8r Boi."
$38-$53, Sun Jul 1, 8pm, The Aztec Theatre, 104 N. St. Mary's St., (210) 812-4355, theaztectheatre.com.

Get our top picks for the best events in San Antonio every Thursday morning. Sign up for our Events Newsletter.