In a now-deleted Facebook post, Nehls said he wanted to
speak with the owner of the truck
after receiving complaints about the sticker, claiming they could face a disorderly conduct charge. Karen Fonseca, the owner, later came forward, telling a Houston TV station that she's had the sticker for almost a year. She said the feedback has been mostly positive (except for old white men). Nehls regarded the sticker as an "offensive display."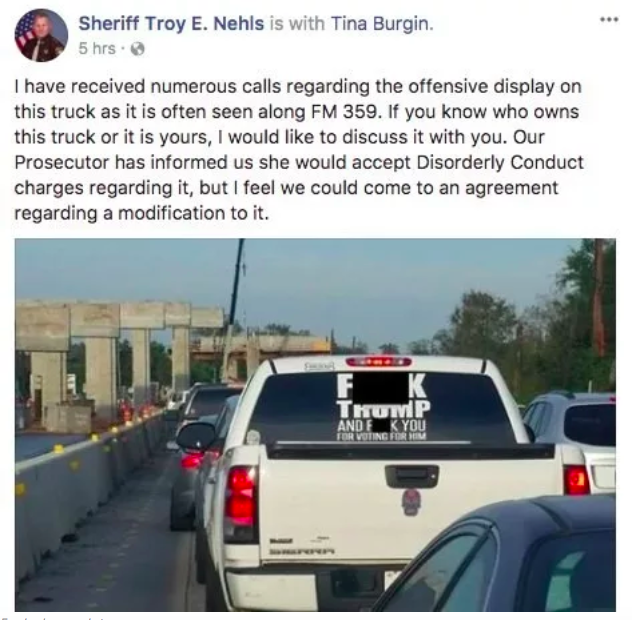 After Fonseca fessed up, local authorities took a look at her record. Turns out, she had an existing warrant for fraud charges (which she was unaware of) and was taken into custody Thursday. She was released on a $1,500 bond about four hours later. Still, Fonseca later told the Houston's KPRC 2 that she believes the arrest was in retaliation for the sticker.
Nehls' initial threat of disorderly conduct probably wouldn't have stuck anyway. After posting his Facebook photo, Fort Bend County District Attorney John Healey told KPRC 2 that he would not have accepted charges for disorderly conduct, which Nehls' Facebook post said the local prosecutor was hoping for.
While some Facebook users sent hateful messages to Nehls about his family, and others felt the need to get into arguments about political standings in the comments, a flood of users felt that Nehls' request as well as the prosecutor's threat to press charges is an attack on freedom of speech. The Facebook photo was posted the same day the trial for the
first group of people arrested for protesting
, including a photojournalist from San Antonio, on Inauguration Day began.
As for the sticker, Fonseca said she has no plans to remove it.
"The sticker's gonna stay on the truck. It's not coming off," she said.
Fonseca is set to appear in court Friday.