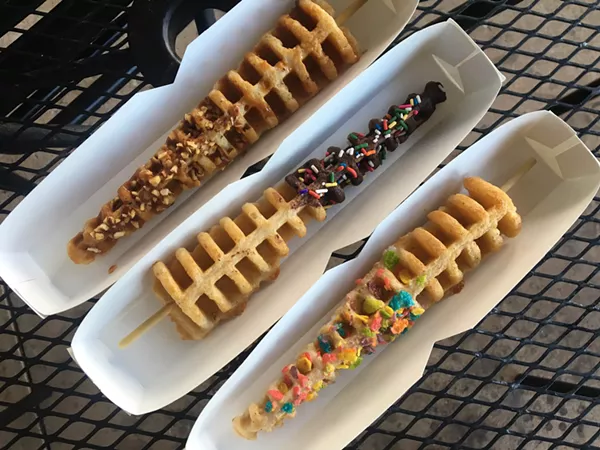 While most dessert shops are tasked with outdoing themselves in ornate and over-the-top treats, Paciugo San Antonio is taking a step back. Their latest menu item, waffle pops on a stick, are tastefully bucking that trend.
The waffle pops are made with a cinnamon-y batter, and cooked with an added dressing of sorts. Dessert-seekers can ask for dulce de leche, chocolate swirl, marshmallow, or fudge and load up on toppings including nuts, Oreos, drizzles, sprinkles and what-nots for $3.39. Try it with a scoop of gelato for $4.29.
Owner Mo Shideed is still playing around with presentation, but the treats hit the spot without causing a toothache. Shideed's gelato can be found in the AT&T Center, Piatti's, Fratello's, Sultan Cafe and most recently Baklovah Bakery.
999 Basse Road, Suite 197, (210) 832-8820.