Page 4 of 6
5. Molly's Game (dir. Aaron Sorkin)
Oscar-winning screenwriter Aaron Sorkin (The Social Network) makes his directorial debut from a script he adapted from the memoir of real-life main character Molly Bloom (Jessica Chastain), a high-stakes, underground "poker princess," and her experiences running poker games for the world's elite before she was busted by the FBI. Much like his other cinematic work, Sorkin's sometimes-too-perfect dialogue springs from the page and from the mouths of his characters with spitfire sharpness, intellect, and wit. It's especially true for Chastain who gives her best performance since 2015's under-appreciated A Most Violent Year. Narration throughout an entire film can be a tough sell, but with Sorkin's style, it's easy to hang on to every word.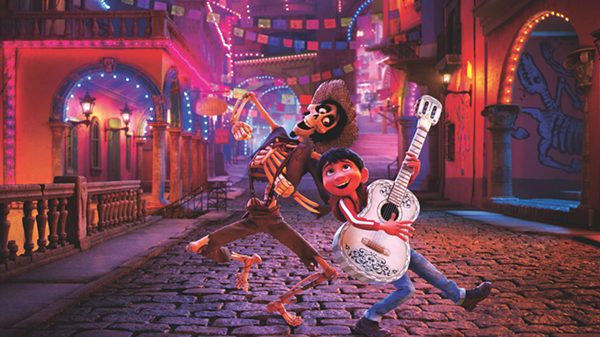 4. Coco (dirs. Lee Unkrich and Adrian Molina)
Pixar's take on the traditional Mexican celebration Día de Muertos gives audiences a film that will become the standard-bearer of what a positive Latino experience can look like on the big screen for years to come. The story of Miguel Rivera (Anthony Gonzalez), a young, ambitious musician who crosses over to the Land of the Dead to find his purpose in life, is a beautiful, heartwarming and visually exceptional achievement about the appreciation of family, the acceptance of loss and the aspiration to become what you were born to be. From the vibrant and imaginative papel picado-inspired opening sequence to the extraordinarily moving final act, it's a cinematic gift to Latinos worldwide and easily the best animated film of the year.