Finding house-made pasta in San Antonio takes skill. Finding said pasta made by an Italy native means visiting Battalion.
The Andrew Goodman and Stefan Bowers-owned restaurant opened last February and as it celebrates its first year in business, it's worth noting nothing about the Battalion's genesis was easy. After having the winning bid on the building appraised at $797,000, Goodman and co. worked on rezoning the colossal structure first built in 1924. Then came renovations and redesign with co-designer Lori Urbano of Urbano Design, including a sleek kitchen, dining room and bar area complete with Italian touches and furnishings to the tune of almost $3 million. Bowers staffed the kitchen with members of his team from his existing restaurants, Feast and Rebelle, but weeks before the restaurant opened, an integral component was still missing.
He sent a message to the universe — or rather Facebook — asking for a committed pasta maker and his call was answered the call from just a few blocks away.
At 32, Elena D'Agostino moved to the states for love. After meeting now-husband David Scott in Italy through mutual friends, the pair continued a long distance relationship — several thousand miles long — for three years, with each taking turns visiting the other, before finally deciding to marry and have D'Agostino come to Texas.
But it wasn't an easy move.
"It's completely different, I was learning everything again," she said, while adding a few Italian expats, such as Diletta Gallorini, co-owner of South Alamode Panini & Gelato Company, who helped make her transition smoother.
Still even trips to the grocery store proved difficult.
"I felt like a child. All the products are different, the interaction with people, the way they talk to you, it's very different cultures," D'Agostino said.
D'Agostino, a Torino, Italy native, had been living in San Antonio for just over a year when mutual friends told her to apply for the position at Battalion. She sent Bowers iPhone photos of her pasta-making skills.
"I was looking for months, and couldn't find anybody," Bowers said early last April, "and three days later we had her come in for an interview."
Her first interview in the states turned into her first job.
"I was so scared, I didn't know what to expect, but everyone was very kind and very helpful with translating," D'Agostino said.
Gregarious and giggly, D'Agostino's love for everything and anything pasta is infectious. She recalls learning how to make pasta by hand from her grandmother and mother Graziella Berta, at age five, often making noodles for lunch and dinner two to three times a week. Every strand was made by hand per her now 94-year-old grandmother's tutelage.
Her passion for pasta grew and the young cook traveled Italy, consumed with the thousands of shapes and varieties of noodles the country is known for.
"There's different climates from north to south, and so the pasta shapes are different, there's always a different culture about it, and I learned from older women always," D'Agostino said.
She worked in a small 10-table restaurant in Southern Italy, where the pasta was made using completely different ingredients, and tools and no eggs.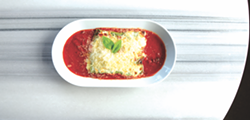 Her move into Battalion's massive kitchen meant taking those early skills and multiplying them tenfold, at an entirely different pace, in a relatively new language.
"She worked in a smaller kitchen, where there were 10 things on the menu and what you got that day was it," said Ezekiel Cavazos, D'Agostino's executive chef at the Southtown restaurant. "It definitely seemed harder at first."
From her corner of Battalion's second story kitchen, D'Agostino had to learn the ropes and fast. This meant learning how to handle different personalities in the kitchen, learning systems, redoing pastas, and working at the high volume a new hot spot required — while still using the metric system.
Until recently, she was also the only female in the kitchen.
"Other than being Italian, it's different for me," D'Agostino said. "It's strange because the recipes we use these days come from our grandmothers and mothers and going into [restaurant] kitchen, a lot of stuff is considered work for a man."
Even so, she and Cavazos forged a working relationship with the executive chef being able to exercise patience for D'Agostino likely learned from 16 years as a cook himself.
"The speed is faster, she's much more efficient, which happens through repetition," Cavazos said.
Nowadays, Bowers likens her work on the pasta bench to watching ballet, but the only souls privy to these skillful moves are Battalion's kitchen staff.
D'Agostino's 10-foot wooden work bench overlooks South Alamo Street and is flooded with sunlight that punctuates the puffs of flour that rise from her every move. She's flanked by a giant mixer and metal prepping table and everything within her radius holds a delicate flour coating, including her wooden pasta tools, such as a small wooden cutters she either brought from home, or has ordered online.
"Amazon.it," she said while showing off a new chitarra, a wooden contraption with steel strings that helps her roll out precise strands of fettuccina (singular for fettuccine), a favorite of D'Agostino's to make.
For the past year, the dinner menu at Battalion has included 10 pastas, of which D'Agostino creates at least 70 percent jointly with Cavazos and Bowers. The winter menu included celery root ravioli with wild mushroom ragu and thyme, updated from the summer's pumpkin ravioli; and the buckwheat parppadelle turned into a buckwheat tagliolini (a variation of tagliatelle with a cylindrical shape and paper-thin thickness) with cabbage, Yukon gold potatoes and gooey Fontina cheese.
There are already staples that will cause minor revolts if taken off the menu. The vibrant green spinach manicotti is stuffed with ricotta and plated with a moat of Pomodoro sauce. The fettuccine carbonara — a dreamy dish of guanciale (a cured meat made from pork cheeks), rich egg yolk cream and sharp pecorino) — will hopefully stay on the menu for decades to come.
The pastas were part of the allure of Battalion for
Texas Monthly
's food editor and critic, Patricia Sharpe, who sang its praises last July:
"Battalion's pasta is so fantastic I wanted to grab every platter and run away with it so I could have it all to myself. The tagliolini were ribbons of silk bathed in a glorious golden-tomato-and-Italian-chile sauce. Equally miraculous was the spinach manicotti, gossamer sheets of the deepest green folded around ricotta and luxuriating in an aromatic pomodoro sauce. Only slightly less astonishing were the nubby buckwheat pappardelle in a resonant ragù of black trumpet and hen of the woods mushrooms. And the fettuccine car-bo-nara, lightly coated in a golden egg-yolk cream sauce, breathed new life into that stodgy classic."
It was a compliment the ever-critical D'Agostino took to heart.
"She's become more confident, she's hypercritical like all good cooks are," Cavazos said. "She's willing to take criticism, which is rare in young cooks, but she's very mature."
Though her favorites include stuffed pasta, such as the agnolotti de plin she and Cavazos offered as a special last fall (she makes no more than 10 to 12 orders for these), people with penchants for pasta have to try the lasagne.
"I think she made them for [staff] lunch one day, it was a pesto lasagna the first time," Cavazos said. "It's going to be different from what you expect. It's lighter, it's not sauce heavy, it's not full of cheese, it's not a brick. It's a big portion, but at the same time you won't be rolling out of here in a wheelchair."
The lasagne is the only pasta D'Agostino makes for the newly added lunch menu at Battalion. And like Cavazos said, it's unlike anything you've had before. The dish is prepared by D'Agostino from the time-intensive beef ragù to the silky béchamel. Four layers of pasta are used to create this delicate bite, with a crunchy texture from the baked pasta layer that sits atop. Each massive slice has two sides that hang over on the baking tray, creating a pleasant, uncharacteristic and addictive crunch.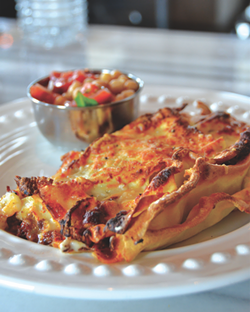 "It's delicious, and it's not just because I make it, but I really love lasagna in general," D'Agostino said.
Two years into her life in the U.S., D'Agostino is still learning how to navigate the American way of life. She communicates with her friends back home via Facebook, often sharing super market finds with Italian commentary.
"The time is different here, so we can't talk all the time or hang out, so Facebook for me is like my phone," D'Agostino said.
"Back home, I'm able to understand what's inside the product, here it takes me one day to understand what I'm buying," she said while pointing to ingredients found in U.S. products that are often illegal in Europe.
This past October she played tourist with her parents, Graziella Berta and Giovanni D'Agostino, two science researchers and scholars, showing them life in the Lone Star State, taking them to NASA's Johnson Space Center in Houston and dining them on Tex-Mex.
"I'm still learning American tastes, what they like more, less. I thought working in food would make it so I didn't want to cook at home, but I'm still doing it," D'Agostino laughed.
Let's hope she never stops.