This past weekend at PAX East was one of the most busy and tiring weekends that I've had in a while. But amongst all of that chaos, I enjoyed myself. Now with that out of the way,  I wanted to give a really quick recap of what happened and what I saw over the last two days at PAX East. It's going to be a bit brief because I have impressions of some games that I got to play and full details will be on those posts, which will be posted up right here on this blog. Call them "exclusives" if you will. Now on with the recaps.
DAY 2:
Day 2 of PAX East went a bit better than Day 1. Early in the morning at 9AM the expo floor was opened early to let the members of the press in and get their hands on games, ask questions and take pictures. It was during this day that I got to demo a couple more games and see some behind closed doors gameplay of some of the expo's bigger tittles. Games that I've gotten the chance to play and will be doing impressions on later in the week are:
Nintendo 3DS
Super Street Fighter IV 3D edition
Resident Evil The Mercenaries 3D
Hunted The Demon's Forge
Arcana Hearts 3
Child of Eden
I would have gotten more done but as soon as noon hit, the expo floor filled up and it was standing room only as you can see from this picture: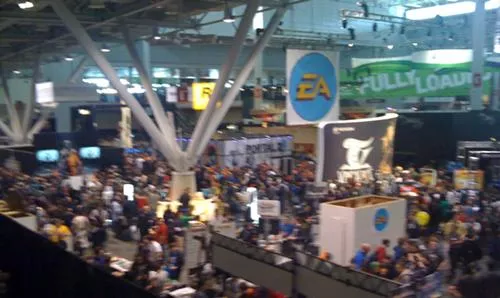 DAY 3
The last day of any convention will always be the fullest day. People checking out of their hotel rooms and  have now where else to be before their flight in a few hours flooded the expo floor. For me that meant two things:
Watch any games that didn't have a wait time of 4 hours, and
Hit up the booths for free swag and to buy stuff from vendors
The games that I got to see and didn't require me to stand in line were:
Battlefield 3
Star Wars The Old Republic
So day three ended with two demo gameplay viewings and hitting up all the booth and trying to see what for sale or giving away for free. That's about it for Day 2 & 3 recap, so be looking forward to my impression of what I played this week. Until then... See you in the Next level, Mike V.
—
Write me and Grayson at pgamer@sacurrent.com.