Gaming fans from across the globe gathered in the Henry B. González Convention Center this past weekend to take part in the fifth annual PAX South convention, Texas' indie counterpart to Penny Arcade's worldwide video game exhibitions.
A misty Friday morning gave way to a sunny Saturday as tens of thousands of attendees rolled into the expo hall, taking in hundreds of demo booths, exhibitors and vendors, tournaments, costumes sexy and flashy, and rows upon rows of tables for people to play board and card games together.
Those figures are no joke: registration staffers were fielding passports from the Netherlands and Asian countries, and while a public relations employee respectfully refused to reveal attendance numbers, another
Current
contributor overheard volunteers marvel that Saturday's ticket sales rivaled those of single-day sales at Seattle-based PAX West — it and Boston's PAX East are known for their gargantuan crowds, commonly estimated to total more than 100,000.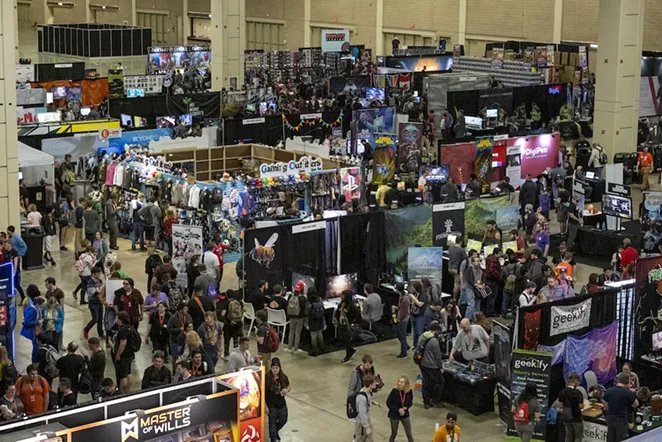 PAX turns the convention center's many halls and conference rooms into concert venues, arcades, virtual-reality playgrounds, live-action roleplaying dungeons, competitive fighting game tournament arenas, diversity and inclusivity lounges — one plaza area is dotted with bean bags and christened the Handheld Gaming Lounge. In other rooms, panels feature personalities podcasting live, streamers with disabilities discussing their craft and psychoanalysts dissecting
The Legend of Zelda
.
And on the show floor, lines form around flashy displays from independent publishers and triple-A studios alike, who set up stations for visitors to demo new games and preview upcoming titles for a short time before passing the controller to the next eager player.
The majority of exhibitors descend upon San Antonio from afar, but I caught up with a handful of locals who offered insight on the life of independent game development in the Countdown City.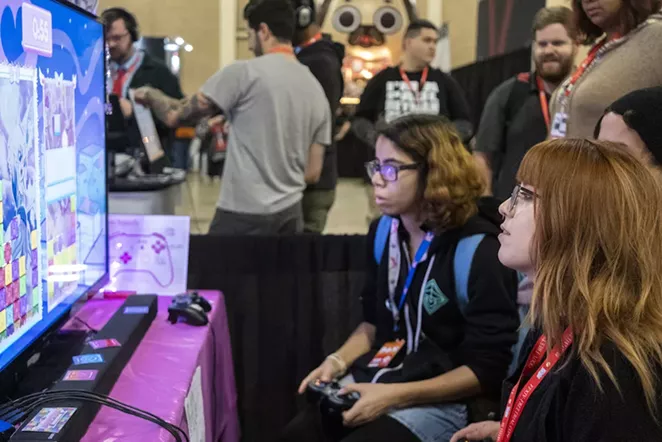 Vicky Sertich, faculty and program coordinator for game development at Northwest Vista College, promoted
Swapette Showdown
, a video game she's developing with her partner and fellow Northwest Vista faculty member Joe Guerra along with a small team.
"It's a competitive action puzzler [for] one-to-four players; you play as these cute little anime girls, and they're battling each other with blocks," Sertich said. "Kind of like a crazy
Candy Crush
. We're still in development, we've been working on it since last-last December... and we already have something really fun."
Sertich and Guerra regularly appear on an
annual panel
featuring San Antonio's game developers. Sertich said many of her students were working as "Enforcers," or PAX volunteers, and that some alumni were displaying their own work at separate booths.
One of her students was at the nearby booth for Switch Caliber Studios, a quintet of San Antonians headed up by Eric De Leon to create their first game,
Wenches and Loot
. Players control Jack, a recent divorcé who goes on an adventure seeking treasure and passion — with boys and girls alike, as Jack is an equal-opportunity lover — through cute pixel art and side-scrolling action-role-playing gameplay.
"Basically, if we're not working our other job, we're slaving away at this," De Leon said. "We also have a board game and another video game that we're going to be doing." But not until after
Wenches and Loot
completes its Kickstarter fundraising campaign, slated for summer 2019.
That line about hustling in the game development industry was a common refrain at PAX South. These games are, so far, self-funded, and everyone I spoke with offered their thanks to the
Greater Gaming Society of San Antonio
, a network for game enthusiasts in town.
"The Greater Gaming Society has developers, but it also has streamers, consumers, students — so it's not just for game developers," Sertich explained.
The party doesn't stop when the convention closes. Houston Gaymers teamed up with the Gay Gaming Professionals and Oculus VR to throw a massive party at the Bonham Exchange Friday night, featuring giant TVs with
Super Smash Bros. Ultimate
, virtual-reality headsets for guests and the chance to party down with a host of indie developers.
"Combining nightlife culture with video gaming and providing it in a relaxing form is easy for us," said Eric Hulsey, graphic designer and founder of Houston Gaymers. "Being at a convention where everyone's already funneled into one area and they're looking for things to get engaged with, this promotes a rare opportunity to get more people excited and energized about it."
Gordon Bellamy, president of Gay Gaming Professionals and a 25-year veteran of the industry, had only positive vibes to share as we walked with Hulsey around the main hall.
"We are inclusive of all stripes, on and off the rainbow, and people from everywhere," Bellamy said. "You find, when you work in the game industry, you often have the opportunity to move around a lot. So wherever you may be coming form, you're part of the community."
Not all home-grown games at the show were digital.
Yanaguana Games
is a San Antonio-based board game company that has created a variety of innovative yet simple designs. Their most popular product,
Stir Fry 18
, is an easy-to-learn, hard-to-master bluffing card game that sold out over the holiday season but will soon enjoy its seventh reprint, said founder Michael Britt.
Britt founded the company with his friends Alex Clifford and Andrew Toth after the trio went to the very first PAX South, in 2014.
"We saw all these people doing it, and we just said that weekend, 'Hey this looks interesting. Would you like to try doing something like this, making our own games?' Within three months, Yanaguana Games LLC was formed," Britt said. They showed off
Stir Fry 18
at the following PAX South and sold out, for the first time, that same weekend.
The Yanaguana team had two other games to boost this year.
"
ReChord
[is] our guitar-themed Eurogame, where you use real guitar picks and real guitar chords to score points and become the most famous guitarist," Britt said. The third offering,
Blume,
is
"
a tile-laying game where you are building your garden, however it has a really neat mechanism where you influence the [value] of the different flowers based on which flowers you planted."
Blume
's art and design comes from the studio's newest member, Stevo Torres, who showed a prototype version of the game to Britt and lead game developer Andrew Toth at last year's PAX. The trio became fast friends and Torres became part of the team.
"PAX is historically a video game convention, but now it's picked up quite a bit with board games, and we're here representing that side of the gaming world," Torres said.
"There are three of us," lead game developer Andrew Toth said, "but I am currently the only one who is based in San Antonio — that is a slightly challenging aspect" to working together. The team uses online tools like Tabletop Simulator to play-test their games despite the distance.
"I think there's a lot of interest, especially for conventions like these and for more events where the tabletop industry is represented and the 'geek culture,' if you will," Toth said. "I think San Antonio is a hungry market for it, and I only see growth potential."
"There is so much out there, and there is so much available," Toth added. "There is a game for everyone, and you just need to find it."
Get our top picks for the best events in San Antonio every Thursday morning. Sign up for our Events Newsletter.