Chris Conde
Peelander-Z
If you find yourself frequently hitting up the St. Mary's Strip or venues like The Aztec Theatre or Tobin Center to check out local or touring bands, chances are you've had some sort of radical concert experience to keep you coming back for more – chasing the dragon if you will. Maybe it was some song you grew up listening to that you finally got to see played live, or you stage dove and crowd surfed. Whatever it was, something in you was changed on a molecular level and you took on an identity as a show-goer.
Last night at Limelight was pretty much full of those sorts of moments (including stage diving and crowd surfing) as New York City's Japanese comic punk band Peelander-Z and SA's own nerdcore rockers Bitforce rocked the hell out of the St. Mary's strip venue.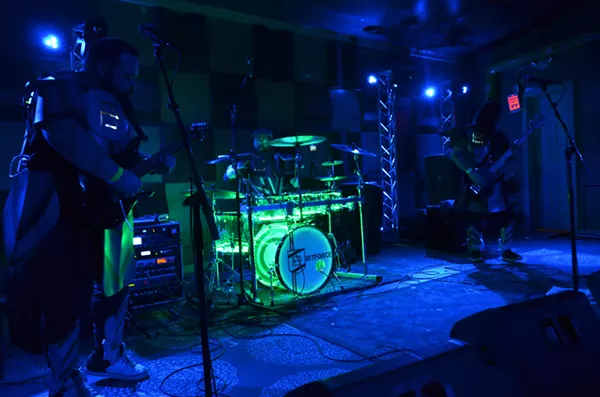 Chris Conde
Bitforce

Bitforce, who opened the night, took to the stage decked out in futuristic looking ninja warrior costumes (think, Mortal Kombat's Sub-Zero but, like, with guitars) and rocked an hour's worth of video game and theme song covers including Mega Man, Sonic The Hedgehog, Duck Tales and Power Rangers but all with distorted guitars and slamming drums. Make no mistake, as goofy and as it was to hear the crowd sing along to a double-bass driven metal version of the Pokemon theme song "Pocket Monsters", the musicianship and creativity of the band really came through and was awesome to watch.
Next up was Peelander-Z.


No one was ready for the onslaught of hyper-energetic displays of crazy Japanese punk rock as the four piece (now Austin-based group) took the stage. The band encouraged the audience to join in singing as bassist Peelander Pink held up the lyrics to the songs which were usually between two to four words, and made things pretty easy for us to follow. The thing with this band was, while, they're obviously a band, the music wasn't necessarily the point. The point was the show, the audience participation and the energy exchange between Peelander Yellow, Pink, Green and Purple and the crowd.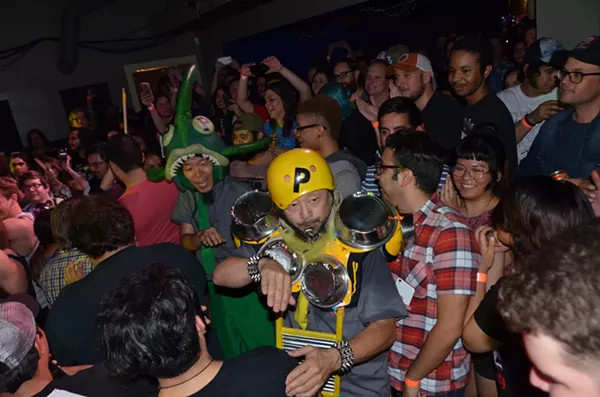 Chris Conde
Peelander Yellow and Peelander Green
At one point, the band (now rocking costume shark and rhino heads over their own) pulled up different members of the crowd on stage and had them play their instruments for a couple minutes. The whole situation was wild to say the least, but in a way, a weird form of therapy – as if Peelander-Z was giving us permission to act like kids and go crazy before the band finished their hour and a half set (which felt more like 30 minutes) and said their goodbyes.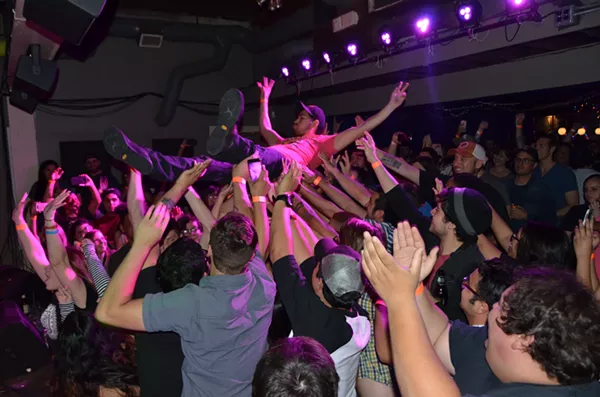 Weaving through the crowd was a sea of smiling or confused faces as people made their exit. There was definitely a sort of magical buzz left in the air from the night. And if any of the younger folks in the crowd had still been waiting for that first life-changing show moment, they probably had at least a couple during Peelander-Z.