If you're reading this right now, congratulations — you're a nerd! Don't click the back button yet, we don't mean it as an insult. Actually, being a nerd is the new hip thing. We came out of the nerd closet years ago, and while it didn't help our dating lives much, it helped get us out there to start seriously pursuing our real dreams: video games. From the console to smart phone, from sequestered home privacy to stolen hours at the "office," everyone plays video games. Some play for fun, others play for cash, and others play because it's their job. For better (and sometimes for worse) the industry has been constantly evolving since the days of the Atari 2600 and Pong. That's where we come in: we'll help make sense of the frantically changing landscape of digital entertainments in weekly posts at blogs/sacurrent.com. Here's who we are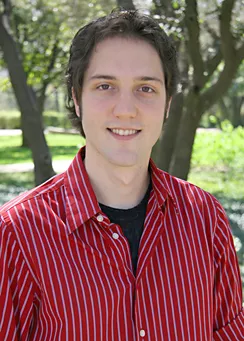 Grayson Hamilton
I am a 23-year-old born-and-bred San Antonian. I graduated from Trinity University in 2009, where I was lucky enough to write a weekly column about video games in the weekly newspaper. Coming out of high school, I knew I wanted to be a part of the video game industry, so I started as a computer science major. To my disappointment, I found out the in order to understand computer science, you had to be smart — a characteristic I can fake really well, but that's about it. Through the support of my parents and a journalism professor who still says she sees something in me, I have chosen to pursue a career in video game journalism. While I will be writing lengthy reviews about current video games as they debut, I will also be writing about events in the video game industry. It's impossible to fully understand, or appreciate, a video game without understanding the industry trends and influences that went into developing a particular game. Ultimately, I hope that my posts will inspire others to talk about gaming less as a hobby or casual time-waster and more as a legitimate expression of art, culture, and philosophy (yes, games can be that deep). A lofty goal, I know, but a goal nonetheless.
Mike V
I'm a gamer just like you. I grew up on Nintendo and Mario, played as the Dallas Cowboys when the first Madden came out, cried when Aeris died, and dreamed about what E3 was like. I picked up and read every gaming magazine while standing in line at H-E-B as the grandma in front of the line pays in pennies. I read books and watch movies about gaming. I help cover events such as anime and comic cons here in Texas, met and interview composers, hung out with some of the best pro gamers in the U.S., and have even attended the one event all gamers dream of — E3. With everything I have experienced I hope to bring some of that knowledge over to the Current's gaming blog team. What I like about covering and following the video game industry is that it crosses into many other subjects as well. Politics, fashion, music, literature, movies, and food: video games have their sticky fingers in every aspect of our social lives. I will also endeavor to supplement gaming news and reviews with interviews, event coverage, streaming gameplay, and getting into online gaming with readers.
Contact us pgamer@sacurrent.com.
See you in the next level,
Gray and Mike