The blurb for the current tour of
The Phantom of the Opera
trumpets a "spectacular new production" with "exciting new special effects," and new "scenic and lighting designs, staging and choreography." Yep, those elements are all new, but not, alas, all good, which only proves that newer doesn't mean better and that advertising isn't analysis. And while the technical aspects are indeed enhanced — a pyrotechnic display caused patrons in rows A through F to shit themselves, which I applaud — the actual nuts and bolts of theatrical performance have been compromised. I see more clearly now that the real genius of the original production wasn't Andrew Lloyd Webber's score, but Harold Prince's staging, which combined spectacle, romance, and tragedy in a sumptuous neo-Gothic form. Prince saw the potential perils of the plot — a slow and weird love triangle — and managed to make the Phantom's mystery both alluring and seductive. Prince took the edge off the Phantom's malevolence: sure, he's an emotionally scarred homicidal maniac, but he's a
charismatic
emotionally scarred homicidal maniac.
Laurence Connor's new direction, by contrast, is an on-the-nose affair that excels at shepherding masses of actors but which ratchets up the plot's ickiness in all sorts of ways. His Phantom seems less a tortured artist than a demented genius who strangely divides his attentions between fugal counterpoint and hangmen's knots. In particular, Connor's staging of the ballads compounds the already confusing characterization of the book: the famous "Music of the Night" sequence — in which the Phantom paddles the ingénue Christine to his lair like a demonic gondolier — inexplicably races to the bedroom, and thus Connor has to invent all sorts of new business for the Phantom's awkward music-studio-cum-dorm-room. For a plot already skirting the contours of the #MeToo movement, the scene muddles the emotional landscape of Act I: my (female) companion was baffled why Christine would wish to spend a single moment with this controlling, obnoxious alpha male who wished to possess her, and her voice, completely. (Oh, and a pro teaching tip: screaming at your student while maniacally banging on an organ is no longer considered Best Practices in vocal pedagogy.)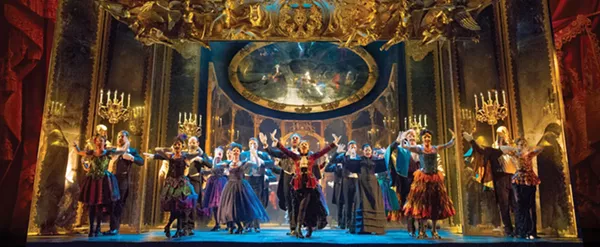 Connor's struggles extend to the second act, with a languid staging of "Wishing You Were Somehow Here Again," Christine's syrupy paean to her dead father, here staged at his tomb. It's dull, and serves only to mask (um, so to speak) the Phantom's reappearance from behind the headstone — so see, he's like
Dad
. (And that somehow makes all of the sexual tension OK? Ewww.) And the final scene — a trio in which one of the characters sings while dangling from a noose — veers perilously close to bathos, even for an opera. While the big set pieces are effectively staged — such as the full-throated mob of choristers for the "Masquerade" ball — the musical too often falters as a human drama. Bigger is not always better.
That said, the production definitely sounds pretty. Lloyd Webber's Puccini-esque tunes constitute a hit parade of '80s Broadway — "Think of Me," "All I Ask Of You," the title track — and the score is particularly well served by the bright sopranos of Christine (Eva Tavares) and diva Carlotta (Trista Moldovan, herself a former Christine). As Raoul, Christine's non-homicidal love interest, Jordan Craig is charming and in fine voice. Quentin Oliver Lee, as the Phantom, is hampered, however, by Connor's direction: evidently instructed to emphasize the Phantom's authority and presence, Lee overdoes his booming baritone and works against the more lilting aspects of the score. (And some straining in the higher register doesn't much help.)
While Maria Björnson's original costumes have been mostly kept intact, Paul Brown has contributed a new set, anchored by a mammoth and versatile rotating cylinder. It's certainly efficient, and at least once, a little scary — the Phantom and Christine must navigate a flight of stairs as it pops out of the wall, step by step. (This looks for all the world like a sequence from a
Tomb Raider
video game.) Presumably, this cylinder has been conceived to accommodate easier touring — the original design and direction are still chugging along on Broadway — but it's another case in which this Phantom seems less Phantom 2.0 than a different Phantom altogether.
So: if you're debating between this tour or saving your pennies for Manhattan's version, I'd go with the latter: sometimes, the original is indeed the best, and any technical improvements are illusory — even phantom.
Get our top picks for the best events in San Antonio every Thursday morning. Sign up for our Events Newsletter.